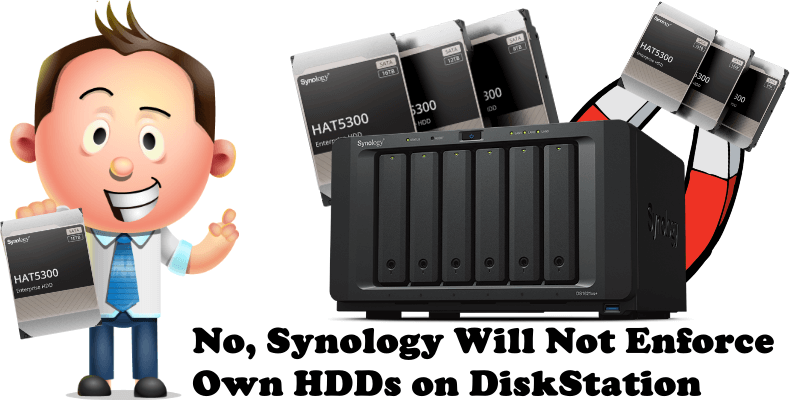 Lately there has been a lot of noise regarding Synology's newly released HDD disks, the HAT5300 series. In addition to the HDDs themselves being added to Synology's products list, which was long-awaited, concerns have been raised about the direction in which the company is headed with respect to enforcing the use of its own HDDs on its NAS models. More exactly, people have been voicing their concern about Synology DiskStation NAS models for personal and home users, and even small and mid-size businesses being bound to Synology's new HAT5300 HDD disks.
Why the concern in the first place?
For one, people like to speculate, and there's nothing more juicy to speculate about than a complete turn of events. Synology NAS devices have been compatible with multiple disk brands from the very beginning, and supported SSDs and HDDs have never been restricted to one brand. Then there are those looking to enjoy their 15 minutes of fame by making an issue of something that has not been an issue from the start. We all know someone like that, so it's no surprise the rumors have taken off like they have. But the concern has been voiced, so that's that. It's understandable, in a way, considering DiskStation is Synology's number one product, loved by millions.
Does Synology enforce the use of their own HDDs on DiskStation NAS models?
No, Synology does not enforce the use of their own HDD disks on DiskStation NAS models.
Will Synology do that in the future?
No, Synology does not plan to enforce the use of their own HDDs, and theirs alone, on DiskStation NAS models.
What about Synology RackStation NAS models?
It's known that DiskStation NAS models from Synology enjoy a range of compatible HDDs. But RackStation is another topic altogether. Synology RackStation is a rack-mounted version of the DiskStation, meant for large-scale use at enterprise level. As a business, especially one looking to scale in the future, getting a Synology RackStation NAS and pairing it with the same brand HDDs is an obvious choice. Not to mention there are benefits to going for the same brand.
Validating their own HDD disks for the enterprise segment makes all the sense in the world. Synology's HAT5300 series HDDs are:
High-performance enterprise hard drives specially engineered for Synology deployments.
The HDDs have custom firmware, with up to 23% faster sequential READ speed.
Note: According to Synology: "Synology HAT5300 enterprise SATA hard drives come in 16 TB, 12 TB, and 8 TB models and are aimed at businesses that demand high-performance and maximum reliability from their Synology deployments". It makes sense that the HAT5300 series HDDs would be the default choice for RackStation NAS models.
This post was updated on Thursday / February 11th, 2021 at 11:14 PM