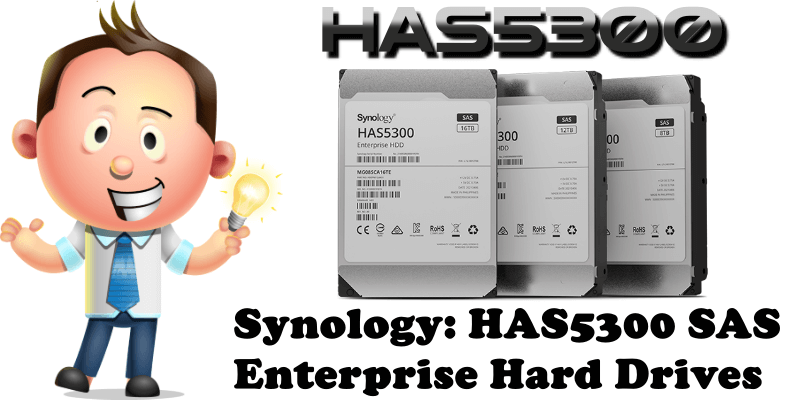 Here at mariushosting I'm always excited when a new Synology product comes out. On July 14, 2021, Synology has announced the launch of its new HAS5300 series 3.5″ SAS hard drives to meet the growing demand for high-capacity, high-performance, and resilient storage systems in enterprise environments. Available in 16TB, 12TB, and 8TB models, the HAS5300 drives are the latest addition to Synology's range of enterprise hard drives, following the release of the HAT5300 series SATA drives in January. They are perfect companions to Synology's high-performance and highly scalable SA and UC series storage solutions.
The HAS5300 Disks Are Available Starting July 14, 2021 From Synology Resellers Around The Globe.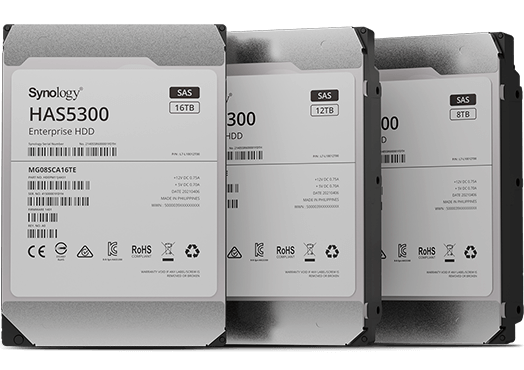 SAS stands for Serial Attached SCSI or Serial Attached Small Computer System Interface, while SATA stands for Serial ATA or Serial Advanced Technology Attachment.
SAS drives tend to be used for Enterprise Computing where high speed and high availability are crucial such as banking transactions and Ecommerce.
SATA drives tend to be used for desktops, consumer use and for less demanding roles such as data storage and backups for NAS.
SAS drives are more reliable than SATA drives thanks to MTTF that stands for Mean Time To Failure 2,500,000 hours for 8TB – 12TB – 16TB models.
The price is not fully revealed but we can expect something in the range of 450$ for 8TB and 700$ for the 16TB model.
HAS5300 Full SPECS vs HAT5300 Full SPECS
Performance
Up to 274 MB/s sustained data transfer.
Optimization
Up to 37% faster drive repair in Synology NAS.
Durability
Rated for 2.5 million hours MTTF.
Updates
Firmware updates through DSM.
Will the new Synology HAS5300 cost more than HAT5300? Yes. HAS5300 are made for Synology's high-performance and highly scalable SA and UC series storage solutions.
Which is the manufacturer? Synology's HAS5300 is a Toshiba Enterprise SAS solution with a customized Synology optimized firmware. The custom firmware and optimization for Synology hardware enable 27% faster RAID rebuild times on systems with HAS5300 drives compared with similar-class drives on the market, significantly reducing the time that arrays spend in a degraded state and helping customers boost long-term system availability.
Can domestic/consumer audiences install HAS5300 on their DiskStation? Only Synology Enterprise Models Are Compatible With HAS5300 Disks. SAS drives cannot be plugged into SATA controllers.
How long will the warranty period be on the HAS5300? The HAS5300 drives are backed by a 5-year limited warranty that includes technical support and hardware replacement services to maximize your return on investment. The warranty period starts from the purchase date, as stated on the receipt of purchase.
How fast will the Synology HAS5300 disks be? 7200RPM for 8TB, 12TB and 16TB disks.
This post was updated on Thursday / July 15th, 2021 at 10:51 AM