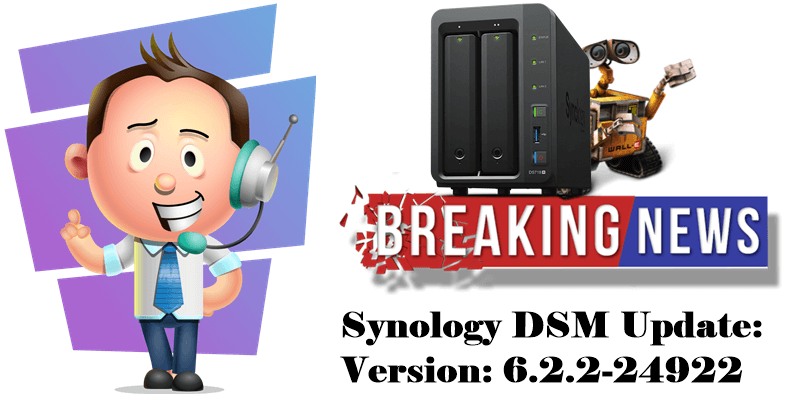 You can find the latest version of your DSM operating system in Synology Download Center. Use manual install to install it.
What's New in DSM 6.2.2?
Added the new Smart Update function and adjusted the update mechanism of DSM.
IHM now supports 14TB IronWolf and IronWolf Pro drives.
Added firmware update function of SAS controller on certain SAS models.
Added knowledge base article recommendations in the Support Center to help users with easy troubleshooting.
Domain users can now change their passwords upon DSM login when their passwords expire.
Added support for Integrated Windows Authentication.
Added support for Google LDAP services.
Added the new Low-Capacity Write function, which resumes LUNs from read-only status temporarily when a volume is running out of space.
Users can now select which advanced features to enable during iSCSI LUN creation.
Adjusted the warning mechanism in iSCSI Manager for insufficient volume space.
Added function to schedule the snapshot rotation in iSCSI Manager.
Added support for the configuration of date and time formats in personal account settings and Control Panel.
Supports SSD compatibility check on XS and FS series models.
Adjusted the notification mechanism for bad sectors.
Improved the calculating accuracy of SSD cache hit rate.
Users can now get a Let's Encrypt certificate automatically upon adding a new Synology DDNS.
Changed notification badges from numbers to red dots and modified display rules.
Fixed Issues
Fixed an issue where usage history may not show in Resource Monitor on certain models.
Fixed an issue where files cannot be re-uploaded after being deleted on macOS 10.13.
Fixed an issue where encrypted Excel files cannot be opened in Microsoft Office 2016 simultaneously on multiple macOS devices.
Shortened the time needed for domain and LDAP authentication via AFP.
Improved the stability of mounting exFAT external devices (exFAT package required).
Improved the stability of NFS protocol connection.
Improved the stability of Snapshot Replication when moving a large number of directories.
Enhanced the stability of Btrfs file system under certain high I/O loading conditions.
Enhanced vulnerabilities protection from KPTI to Spectre and Meltdown Protection for improved security. Applied models:

18-Series : DS218+, DS418play, DS718+, DS918+, DS1618+, DS3018xs, RS2418+, RS2418RP+, RS2818RP+, FS1018
19-Series : DS1019+, DS1819+, DS2419+, RS1619xs+

Fixed multiple security vulnerabilities regarding Linux kernel (CVE-2017-13168, CVE-2018-19824, CVE-2017-15649, CVE-2018-14634, CVE-2018-17182, CVE-2018-10853).
Fixed multiple security vulnerabilities regarding OpenSSL (CVE-2018-0732, CVE-2018-0737, CVE-2019-1559, CVE-2018-0734, CVE-2018-5407).
Fixed multiple security vulnerabilities regarding Spectre & Meltdown (Synology-SA-18:01).
Fixed multiple security vulnerabilities regarding OpenSSH (CVE-2019-6109, CVE-2019-6110, CVE-2019-6111, CVE-2018-20685).
Fixed a security vulnerability regarding SQLite (Synology-SA-18:61).
Fixed multiple security vulnerabilities regarding Samba (Synology-SA-18:47, Synology-SA-18:60).
Minor bug fixes.
This post was updated on Thursday / September 2nd, 2021 at 12:08 AM