In certain situations it becomes necessary to install updates manually on your Synology NAS, even though Synology offers support in the form of automatic download and installation of updates for both their DSM operating system and third-party and non-third-party packages. Do remember that the operating system files have the .PAT extension and all packages have the .SPK extension. (Learn how to force a manual update on your Synology NAS).
What is a .PAT file? It's a system file extension used by DiskStation Manager (DSM), the operating system for Synology NAS devices; it contains the files required to install or update the low-level operating system software that runs the device. DSM updates that come as .PAT files can be used from Control Panel by choosing "Update & Restore" and then the "DSM Update" option.
What is a .SPK file? It's a file extension for the installation of packages used by DiskStation Manager (DSM), an operating system developed by Synology for use on their NAS devices; it may contain programs or other software components that extend the base DSM software; it can be installed via DSM's Package Manager, which is available with DSM firmware 722 and later.
How do you manually update your DSM Operating System on your Synology NAS? You can download the DSM .PAT update file from Synology Download Center and perform a manual DSM update. First of all visit the Synology Website and then go to the download section to download the latest DSM update to your computer. Unzip the file to get a .PAT system update file. Follow the instructions in the images below.
Select your Synology device (model)
Click Operating System
Download the latest .PAT file


Go to Control Panel / Update & Restore and, at the top of the page, click on the "DSM Update" tab, then on "Manual DSM Update". Browse to select the .PAT system update file. Click Apply to start to update your DSM. The system will reboot automatically when the update completes. Troubleshooting: If you cannot update your DSM manually, the following suggestions might help solve the problem:
Check if the upgrading process was interrupted by other users on the NAS or an unexpected event such as a power failure.
Check the DSM version. You can only update the system with a newer DSM version.
Download the DSM update again (the system update file might be corrupted).
If the problem persists, please contact Synology Technical Support.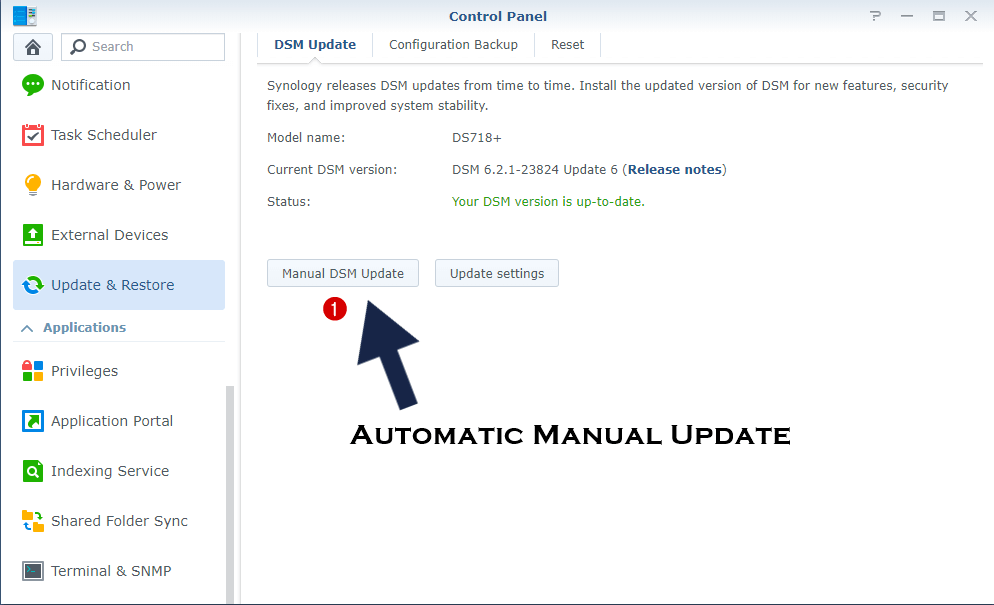 To manually update your Synology Packages you have to follow the exact steps depicted in the first images. Go to the Synology Website and then go to the Download Center, select your NAS model, then, in the Download section, proceed to download the latest update. Follow the instructions below and in the image:
Select your Synology device
Click Operating System
Download the latest .SPK file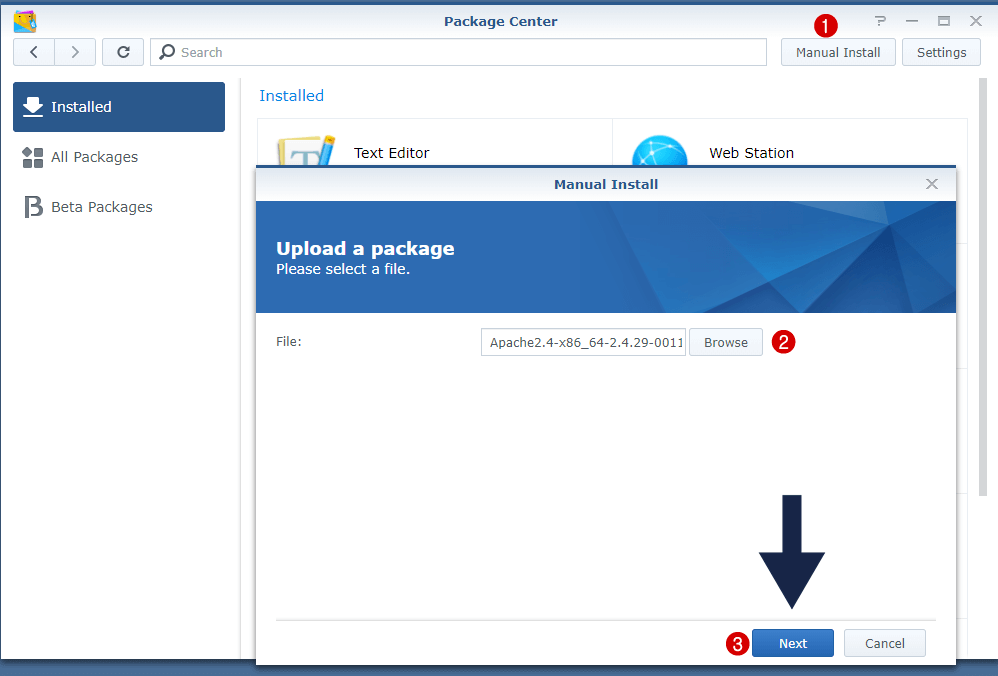 This post was updated on Sunday / August 29th, 2021 at 2:52 AM