If you are using your Synology NAS as a surveillance device, you can back up Surveillance Station and restore it to a previous version with the Hyper Backup Package which you can download for free from the DSM Package Center.
What is Synology Surveillance Station?
Surveillance Station is a web-based application that can manage IP cameras to safeguard your home or office environment. With Surveillance Station you can watch and record live view videos, set up scheduled recording, playback recorded events via web browser, VisualStation, or mobile device for remote monitoring. Notifications can also be sent to you whenever important events occur.
What is Synology Hyper Backup?
Hyper Backup helps you back up data and LUNs, and retains multiple data backup versions to keep important information handy and easy to track. Hyper Backup also makes restoring data and LUNs simple and straightforward.
How can I restore a Surveillance Station backup?
To restore the desired backup task, go to Hyper Backup. After the restoration is complete, the current settings and data of Surveillance Station will be overwritten.
How can I back up Surveillance Station?
Log into your NAS / Go to Package Center / Download the Hyper Backup package / Install the Hyper Backup package and open the Hyper Backup Package to start the Backup Wizard.
Click on the "Plus" icon, then on Data backup task. Follow the instructions in the image below.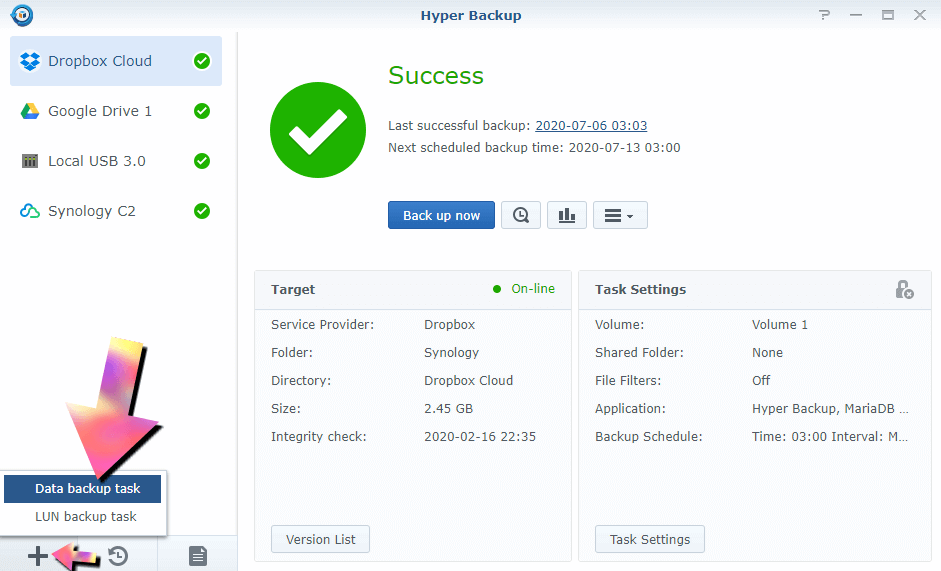 Choose the Backup Destination according to your preference, then click Next. Follow the instructions in the image below.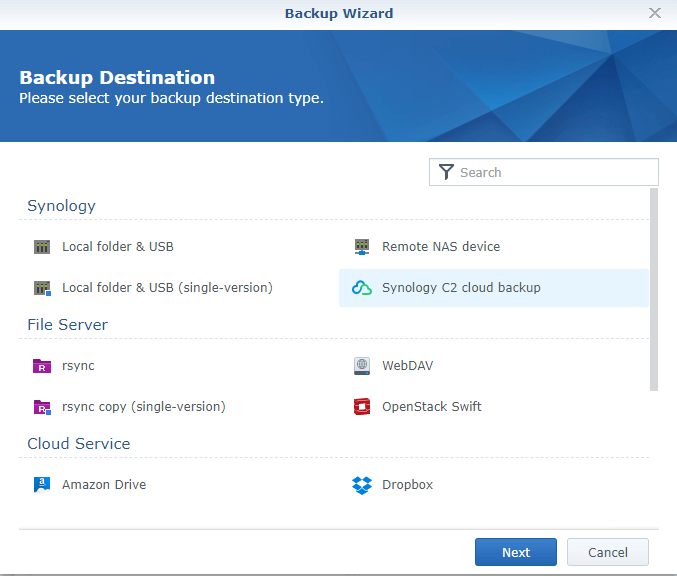 Create backup task Directory name. Follow the instructions in the image below.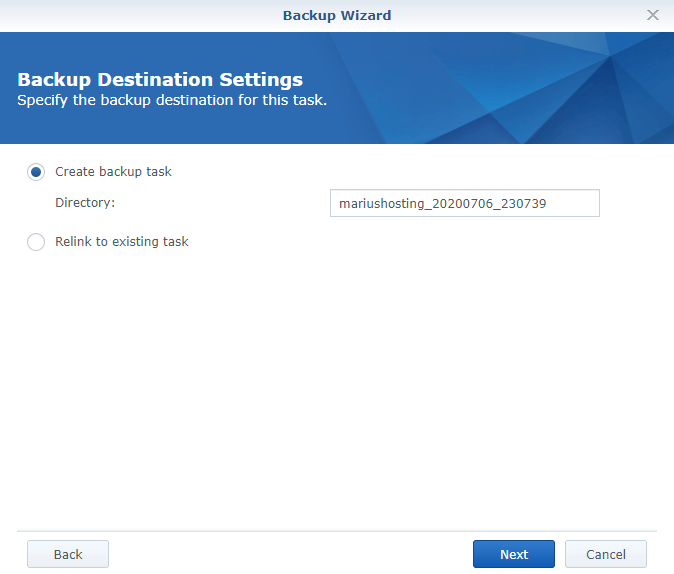 Choose Surveillance Station when you are prompted to select the applications to back up. After the backup task is complete, the following Surveillance Station configurations will be backed up:
Surveillance device settings
CMS settings
Recorded events
Layout in Live View
Notification settings
E-map settings
License key
Log
VisualStation settings
Joystick settings
Snapshots
Action Rule settings
Axis Door Controller settings
IP Speaker settings
Note: You can't restore any Surveillance Station backups from before version 6.0
Note: In the recording tab you can keep the files within (days): Specify a period of time (in days) within which you wish to retain the recordings. Any recordings that were saved earlier than the specified time range will be deleted automatically and will not backup.
Note: Choose Synology C2 as Backup Destination if you want peace of mind.
This post was updated on Monday / July 6th, 2020 at 11:33 PM