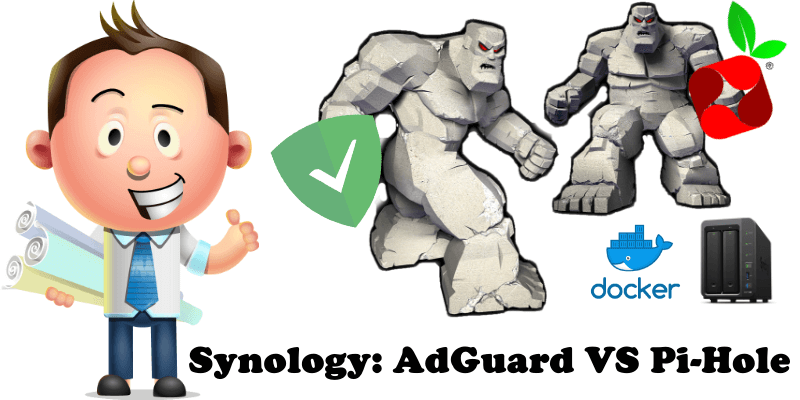 Many people contacted me asking what the difference between AdGuard and Pi-Hole is and which one to use on their Synology NAS. As we well know, compared to AdGuard, Pi-Hole is very popular and is installed by millions of people on Synology devices. But this is not the case with AdGuard home. Personally, I prefer AdGuard over Pi-Hole, but this is a matter of personal taste. Below I go into detail with some differences between Pi-Hole and AdGuard.
AdGuard was founded in 2009. In 2017, the headquarters was moved from Moscow to Cyprus, while most of the developers are still located in Moscow (Russia).
AdGuard had a cleaner Interface compared to Pi-Hole.
AdGuard uses fewer resources (RAM) than Pi-Hole.
AdGuard container is 50MB and Pi-Hole container is over 300MB.

Pi-Hole

is global, it's not Russian. Developers are located in the US, Canada, England, Germany and Australia.

Pi-Hole

has a bigger community compared to AdGuard, so you can easily find help if you need it.
Pi-Hole blocklists and whitelists are constantly updated and maintained by the maintainers. Pi-Hole automatically updates your lists on a weekly basis (Sunday).
Personal opinion: I sincerely prefer the AdGuard logo over the Pi-Hole logo. Red has always seemed an aggressive color to me, while pastel green a warm color that inspires security, and the shield, even if it has been used by all antivirus developers etc., it always inspires protection, even over the years.
This post was updated on