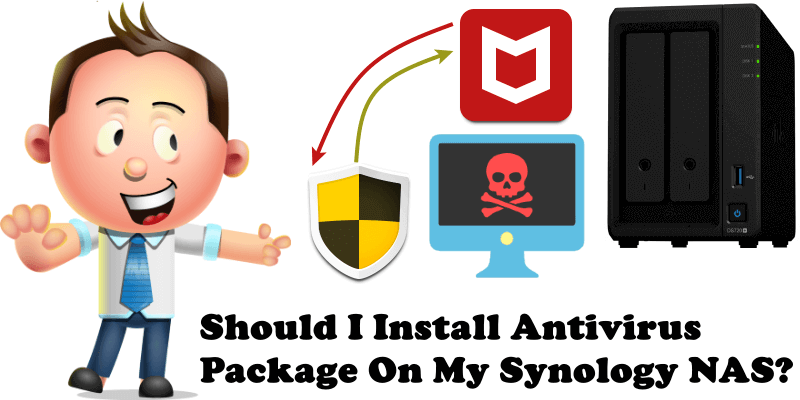 Synology comes with three antivirus solutions for your NAS. The first solution is called Antivirus by McAfee and it has a free 30-day trial, after which you have to pay for it. The second solution is called Antivirus Essential and it's free. Both packages can be downloaded via the Package Center. Both antiviruses have the exact same graphics and options, except that one is free and the other one requires you to pay for it after 30 days. I'm amazed. Both antivirus apps required 5 minutes to initialize the scan and almost 30 minutes to perform a full scan of just 600mb of files. The third solution is an integrated program called "Security Advisor" but it scans only for malware, not viruses. Antivirus by McAfee and Antivirus Essential are somewhat pointless products in my opinion, that is, pointless for Synology NAS. In the screenshot below you can see the main screen of "Antivirus by McAfee".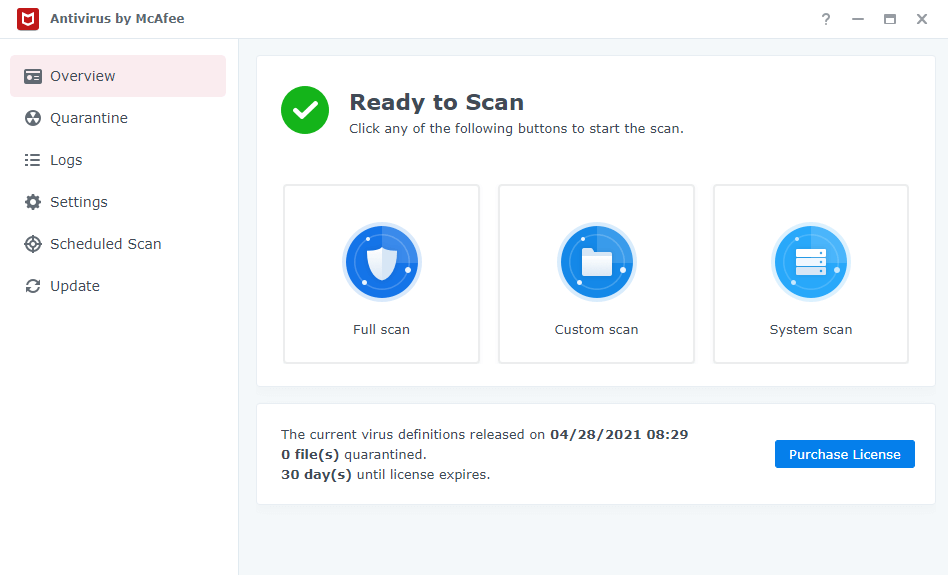 In the screenshot below you can see the main screen of "Antivirus Essential". These two are definitely twinning.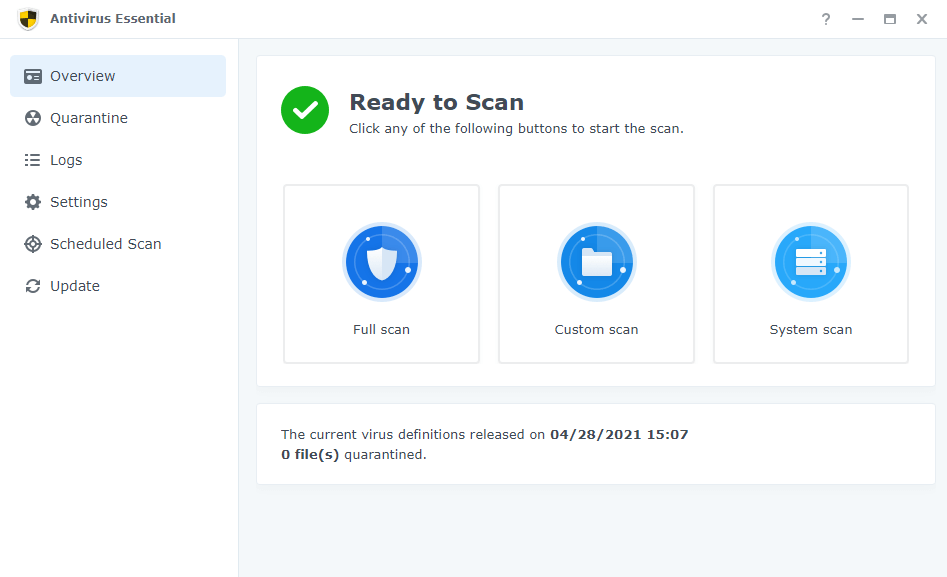 Look at that price for "Antivirus by McAfee": 19.99 dollars for a 1-year subscription, 34.99 dollars for a 2-year subscription. In my opinion, the price is too much for an almost pointless product for Synology that consumes a lot of CPU. 34% CPU usage for a full system scan makes it a "hungry resource application".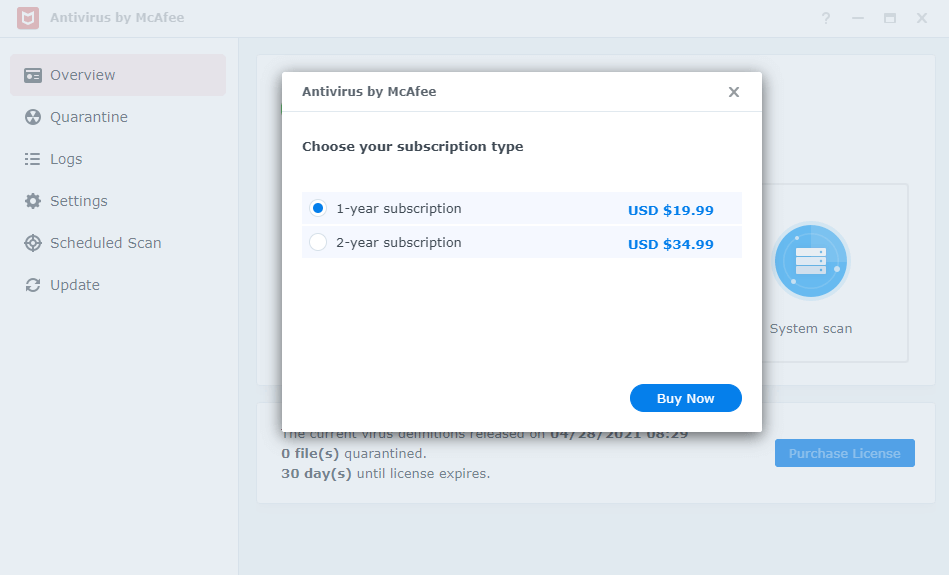 In the screenshot below you can see the integrated Synology DSM solution called "Security Advisor".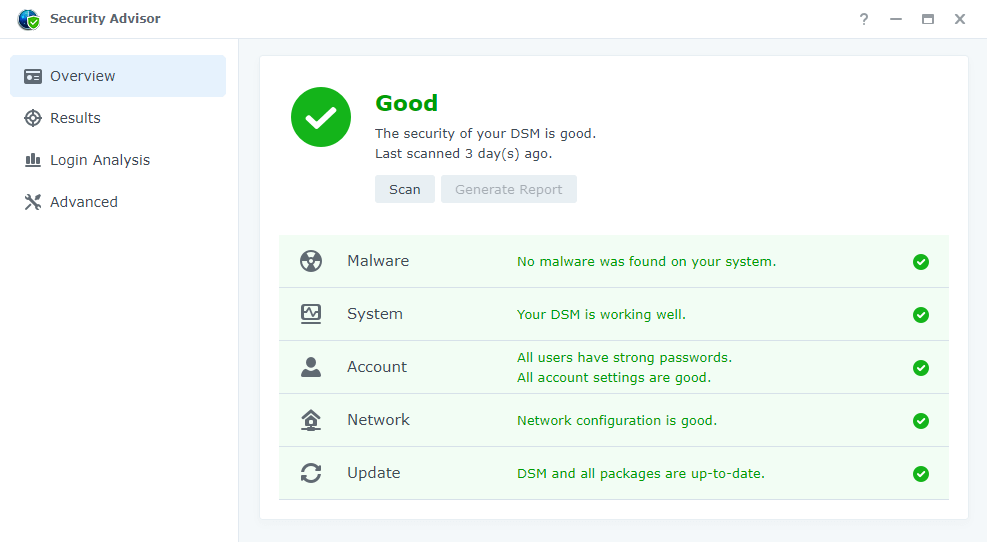 Do you really need an antivirus solution for your Synology NAS?
You really don't need an antivirus on a NAS. An antivirus is just as unnecessary as all other antivirus applications. I've never had a need for an antivirus in 25 years of using computers. I find they're a waste of RAM, CPU and time and don't really offer any protection. Just don't download untrustworthy software from untrustworthy sites. Don't use questionable browsers that are riddled with security holes. Don't visit websites that you don't trust. Don't install browser helper objects on Windows. Don't install software masquerading as an antivirus saying "that will fix your PC". Like anything from Webroot. And, for the love of God, don't ever open e-mails from unknown, questionable sources or download attachments from them. Just as important, be cautious of phishing, e-mails impersonating institutions or service providers you may be affiliated with and don't provide them with your personal information under any circumstance. You are the only antivirus you need. If you have files dating back 20 years, some are probably infected by malware or viruses. You can try to scan them on your own computer with an antivirus before uploading them to your Synology NAS. Read more: What Can a Virus Do On a Synology NAS Drive?
When is it advisable to use the antivirus on your Synology NAS?
If you are using apps such as Download Station that can directly import content, then there might be a case for the use of the antivirus on your Synology NAS. For those who host websites or for those who use their NAS to backup websites they host, be aware that the antivirus can be a valuable tool for identifying and detecting hacked websites (such as malicious scripts that have been uploaded, backdoors etc.).
Do Antivirus by McAfee and Antivirus Essential have Real Time Protection?
Actually, Antivirus by McAfee and Antivirus Essential don't have any real time protection but you can schedule a scan.
My advice is to keep your systems patched and you will not have to worry about installing an antivirus. Just use the native solution that comes with your Synology NAS, "Security Advisor". Antivirus solutions from the Package Center will slow down your Synology NAS because the box doesn't have a powerful enough CPU that can handle it effortlessly.
Note: Securing NAS When Exposing It to the Internet.
This post was updated on Wednesday / August 10th, 2022 at 10:24 PM