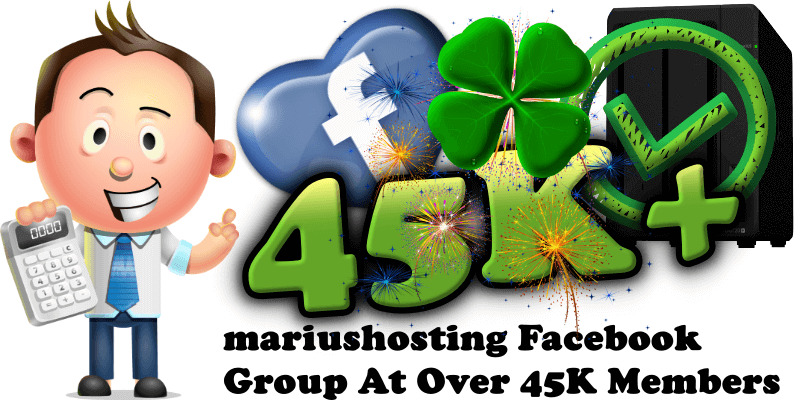 One week ago I was telling you that the mariushosting Synology Facebook group was at 44K members. Today, only seven days later, I'm happy to update you on the numbers again and let you know that we're already at over 45K members! Another full 1K new members joined the mariushosting Synology Facebook group these past few days! So I would like to take this opportunity to say welcome to everyone and to tell you how grateful I am for you. Thank you, everyone, for choosing our Synology Facebook group, and thank you to everybody lending a helping hand by sharing their experience and expertise to help our fellow members!
In the same spirit of contributing to the community, this past week, I've updated 20 Docker containers for you, and made efforts to provide at least one new post a day on the blog. Make sure you visit mariushosting every day to see what's new and find interesting Docker apps to install on your Synology NAS and use for your home setup or business.
This being said, with over 45K members, the mariushosting Synology Facebook group is the biggest Synology community on Facebook, and THE place to be to interact with your fellow sysadmins! If you also have a Discord account, come join the mariushosting Synology Discord channel too!
Thank you everyone, Moderators & Admins (Anna Anna, Joel Gonzalez, Paul Barrett, Jason Yeo, Sebastian Kochendörfer, Paul Steunebrink, Scott Stevens, Hein Traag, Peter Kay, Stefan Lindeberg, Henry Madsen Jensen) and all group users who have made this possible! And the rest of you who are not yet with us, come join the biggest Synology NAS Facebook group using the link above. We are now 45K+ on Facebook and growing fast! Inspiring others to take a chance on new adventures and grow and learn new and exciting things! And it's not only Facebook – we also have the biggest dedicated Synology Community on Discord too with over 4920 members. Your Internet friend Marius is working hard every single day to build top Synology communities accessible for FREE for all who are enthusiastic and passionate about technology.
In all the guides present on mariushosting you will find STEP 1 which says Please Support My work by Making a Donation. Almost 99,9% of the people that install something using my guides forget to support my work, or just ignore STEP 1. I've been very honest about this aspect of my work since the beginning: I don't run any ADS, I don't require subscriptions, paid or otherwise, I don't collect IPs, emails, and I don't have any referral links from Amazon or other merchants. I also don't have any POP-UPs or COOKIES. The main reason for this is because I want to offer a clean, safe and pleasant user experience to anyone coming to mariushosting. And I truly think it's important we have this kind of experience in today's online climate where you never truly know if what you're reading is genuine content anymore. But for this I require your support. I do self-host so I have devices running 24/7/365. I do all the technical support work, admin work, I test and create content, from informing you of what's new to providing complex technical tutorials with images and exact instructions and code that I specifically make work for this type of devices, take care of security and all other kinds of updates, and work to improve user experience all the time. But I need to be supported to be able to continue doing this kind of work. I have repeatedly been told over the years how much I have contributed to the community. It's something I love doing and have been honest about my passion since the beginning. But I also ❤️ Need The Community to Support me Back to be able to continue doing this work.
One month ago a new feature came to mariushosting. If you have a Docker Compose or a Docker CLI (code to insert in Task Scheduler) that is not already present on mariushosting, or a code that is different from the one proposed by me in one of my tutorials,🍀 You Can Now Share It on mariushosting to make it available to the community and your fellow Sysadmins. Your compose will be available for free to all visitors that have a Synology NAS that supports Docker.
This post was updated on Thursday / July 6th, 2023 at 1:10 AM