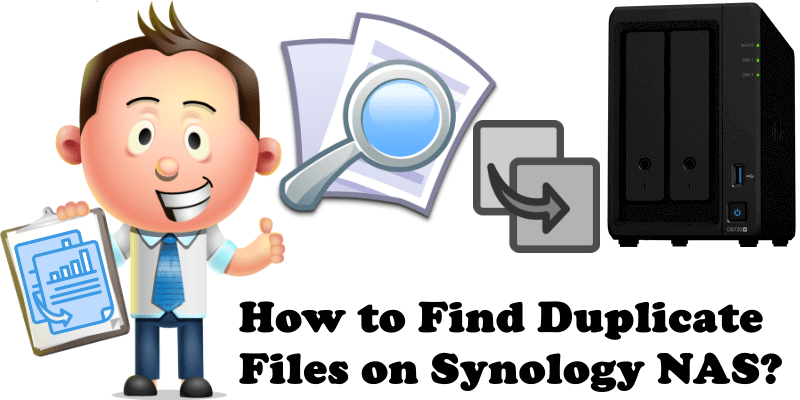 Say you have a whole bunch of copies of the exact same files all over the place on your Synology NAS disks – how can you find them all and delete them? After copying and organizing my files a bit, I found out that I had multiple copies of the same files, pictures, videos etc… But how could I find the duplicates and erase only them? So I started looking for the best way/software to clean all the duplicate data, free if possible. That's when I found the Storage Analyzer Package from Synology. Storage Analyzer really is the optimal solution, and easy to use.
If you go online to look for answers on how to find duplicate files on your Synology NAS, you'll find a lot of more of less complicated solutions. But the Storage Analyzer package from Synology is the most effective solution. Not only is it perfect for what you need, but being a Synology product also means it's reliable.
Storage Analyzer allows you to have a quick glance at the overall usage trends of your Synology NAS, create and manage tasks to analyze storage spaces, and generate detailed reports on volume usage. You can select report types, set a schedule to receive periodic storage reports, and easily view previous reports that match the specified time or criteria. You can specify the maximum number of duplicate files to be listed in the report. You can also choose to compare duplicate files by modified time and/or by file name to speed up the analysis. With Storage Analyzer, managing your system and modifying your settings according to the analysis becomes a lot easier and more efficient; for instance, based on analysis reports, you can delete files rarely accessed to release space for other usage, increase quota for users with larger demand, or install more storage space to meet the need and usage trends.
Go to Package Center / Select All Packages / Search "Storage Analyzer" on the top search box / Install the Package / Open the package. Follow the instructions in the image below.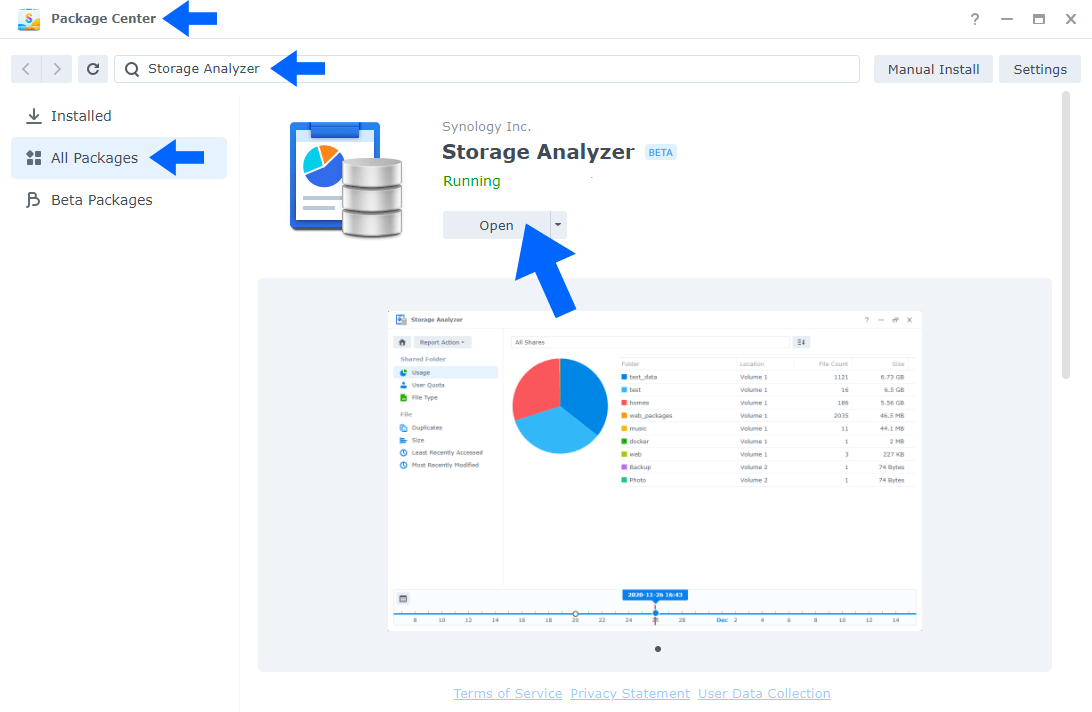 Note: The Storage Analyzer allows you to see what files/folders are taking up space on your NAS and if any duplicates exist. It's a powerful tool that periodically comes in handy.
Note: How to Set Up Storage Analyzer.
This post was updated on Wednesday / August 10th, 2022 at 9:28 PM