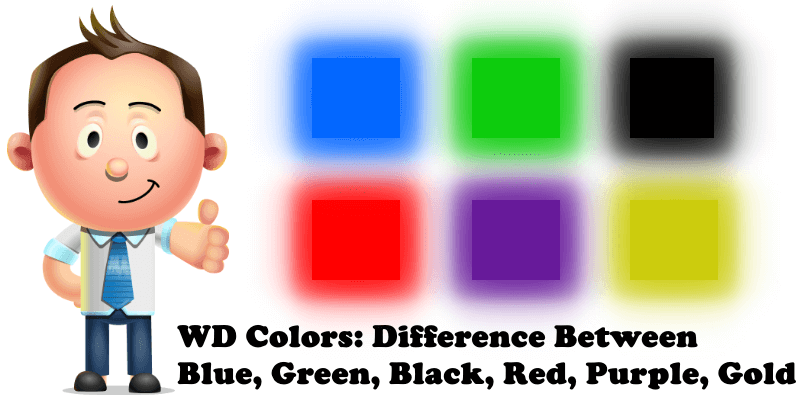 In order to simplify the process of Hard Disk selection, Western Digital's drives are categorized according to the product's features. But for the most part, people identify them by their label abbreviation and their different colors (WD + color). Currently, Western Digital has Blue HDDs, Green HDDs, Black HDDs, Red HDDs, Purple HDDs and Gold HDDs. Each color is indicative of what the HDD is used for. This simple guide below will help you choose the right HDDs for your Synology NAS. Obviously, the hard disks can be used with different NAS brands. But since this blog is all about Synology, which also happens to the best NAS, we'll be talking about choosing the hard disks that are best for Synology.
WD Blue: The blue HDDs are mainly used for general purpose storage. They are great all-rounders and an average user can't go wrong with a Blue. Suitable for home usage, with high performance and low-cost advantages, and 7200 rpm. Disadvantages include: blue HDDs make more noise compared to green ones and their performance is lower than that of black HDDs.
WD Green is basically the same as WD Blue, but it has a bit of a lower performance. However, it is the most eco-friendly HDD, and it's quite cheap. It makes less noise, so it's more suitable for home usage. It's the HDD for file downloading. Advantages include: it produces less heat (it heats less), it's quieter, lower-cost, more eco-friendly. An energy-friendly HDD with large storage capacity. By adopting IntelliPower technology, the speed can automatically adjust between 5400-7200 rpm. Cons: low performance, high delay time, average life expectancy.
WD Black: black HDDs are made for pure performance and suitable for gaming, media, and content creation. WD Black is one of the most expensive HDDs. High performance, large cache, high-speed. Alias: LS WD Caviar Black. Mainly suitable for enterprise applications requiring high-end computing such as video, photo editing, rendering and high performance game console.
WD Red is a NAS drive. It's optimized for NAS systems like Synology. Specifically designed for the NAS environment which requires 24/7 uptime (functioning continuously, 24 hours a day, 7 days a week). The number of Western Digital Red HDDs typically used ranges from 1-5, usually for small and medium scale enterprises/businesses hosted on NAS devices. The performance of red HDDs is close to that of green HDDs. Power consumption is low, noise is low too, making it suitable for round the clock activity featuring NASware technology. This technology offers better compatibility, can fit NAS or RAID seamlessly. It's perfect for Synology NAS Backup.
WD Purple is for surveillance. Advised for 24/7 operations. Green HDD AV-GP's replicate, support, ignore cyclic redundancy check (CRC) errors; they are suitable for video surveillance storage, and designed for 24/7 operations. Recommended to work in sync with Synology Surveillance Station.
WD Gold, premium WD HDD, the absolute best. Made for a multitude of Data Center-specific applications. WD Gold HDDs are made for Data Centers, for enterprise solutions. These are top level hard drives. They are the most sophisticated WD products. WD Gold can handle 550 TB of data per year and 2 million hours Mean Time Between Failures. The drive also features things like StableTrac, Multi-axis shock sensor, Dynamic fly height technology. They are the most expensive and up to date WD HDDs you can get. Same as WD Black, Gold comes with a 5-year warranty. These hard drives will do great if used on servers because that's what they are made for. Recommended for VMS and Web Hosting.
Which color is the best WD HDD color for my Synology NAS?
WD RED for applications like Drive, Moments, Photo Station, MailPlus Server, Video Station, Audio Station and Backup.
WD PURPLE for Surveillance Station.
WD Gold for Virtual Machines. Webstation, PHP, Docker, WordPress, Web Hosting.
Which color is the worst WD HDD color for my Synology NAS?
WD Blue

WD Green

WD Black
This post was updated on Tuesday / January 3rd, 2023 at 9:20 PM