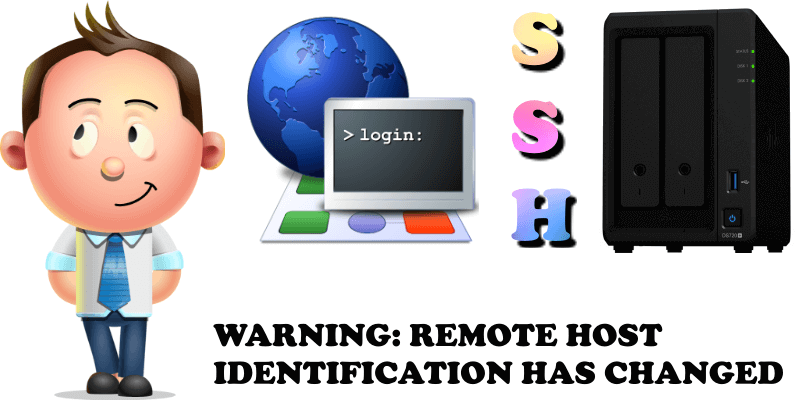 A few days ago I accidentally overwrote my previous SHA key in my computer and, when I tried to connect to my Synology NAS using ssh, I got this message below in my Terminal Client:
---
@ WARNING: REMOTE HOST IDENTIFICATION HAS CHANGED! @
IT IS POSSIBLE THAT SOMEONE IS DOING SOMETHING NASTY!
Someone could be eavesdropping on you right now (man-in-the-middle attack)!
It is also possible that a host key has just been changed.
The fingerprint for the ECDSA key sent by the remote host is
SHA256:dhVEvWm5cU6ecArEudigr/e1PT+Z7iYaq7VX6KPysLE.
Please contact your system administrator.
Add correct host key in C:\\Users\\Marius/.ssh/known_hosts to get rid of this message.
Offending ECDSA key in C:\\Users\\Marius/.ssh/known_hosts:1
ECDSA host key for 192.168.0.108 has changed and you have requested strict checking.
Host key verification failed.
---
I have used ssh-keygen to delete the invalid key. Type the code below in your Terminal Client:
 ssh-keygen -R 192.168.0.108
Note: 192.168.0.108 is my own NAS local IP. You have to change this value and add your own NAS local IP.
This post was updated on Monday / August 10th, 2020 at 5:36 PM