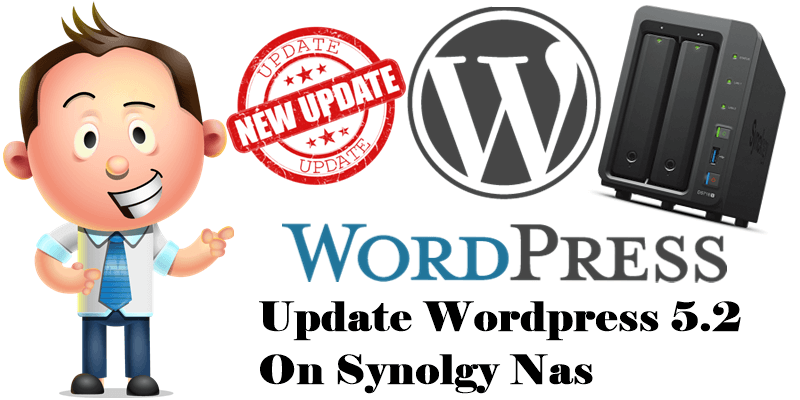 Finally, after a very long wait, WordPress version 5.2 is coming to Synology Package Center. A lot of users have been expecting this update for some time now and Synology has listened to the thousands of requests it got from its users. I hope that in the future there will be more regular updates for these packages released by third parties and implemented by Synology in their Package Center. The current version released by Synology on June 11, 2019 will be available for automatic download for all users/regions in the next few days.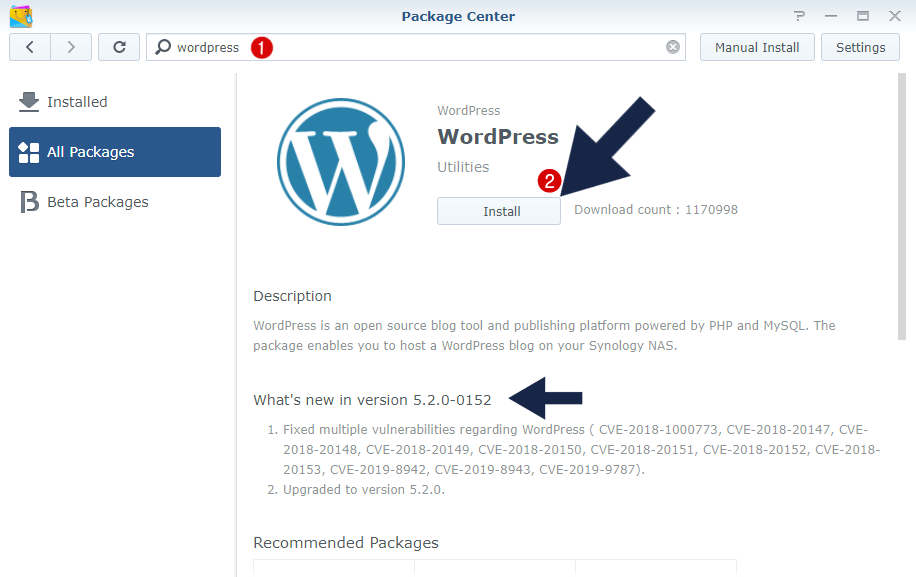 Version: 5.2.0-0152 (2019-06-11)
Fixed multiple vulnerabilities regarding WordPress ( CVE-2018-1000773, CVE-2018-20147, CVE-2018-20148, CVE-2018-20149, CVE-2018-20150, CVE-2018-20151, CVE-2018-20152, CVE-2018-20153, CVE-2019-8942, CVE-2019-8943, CVE-2019-9787).
Upgraded to version 5.2.0.
WordPress 5.2 "Jaco" is finally here and has brought major improvements with it. This is the second major release this year after WordPress 5.1 released in February. As per the schedule, WordPress 5.2 was released on May 7th, 2019 and was implemented in the Synology NAS Package Center on June 11, 2019. WordPress 5.2 is named after Jaco Pastorius in honor of the renowned and revolutionary jazz bassist.
There is an abundance of major improvements that make working on WordPress so much easier. The features added in 5.2 will help users fix their site if something goes wrong. The new major update includes features like Site Health Check Improvements, Block Editor Enhancements, PHP Error Protection, Accessibility Updates, New Dashboard Icons, Plugin Compatibility Checks, Developer Enhancements and more.
Let's have a detailed look at the major improvements on the WordPress 5.2 Synology Package 
Site Health Check: The Site Health Check feature is here with two new pages – Status and Info under Tools > Site Health. The Status page allows you to test your site's health and provide the required fixes. Similarly, the Info page includes more debugging and support information.
Block Editor Enhancements: A new reusable block-editor module has been introduced to expand the usage of the Block Editor in a context independent from the post editor. A bunch of new blocks including the RSS block, Amazon Kindle Embed block, Cover Focal Point Picker, and more have been added to WordPress 5.2. Also, you can now enable/disable blocks within the block inserter.
PHP Error Protection: WordPress 5.2 allows administrators to fix or mitigate fatal errors on their website. It was previously impossible to address such errors without developer interference and modifying the internal WordPress code. This includes five ways that developers can integrate the new recovery mode features.
Accessibility Updates: On the Accessibility side, you can now find improvements to markup Admin tabs, to post formats in list tables, to the Admin Bar sub-menu link markup and to the archive widget dropdown, all to help assistive technologies.
New Dashboard Icons: There are 13 new dashboard icons including Instagram, a suite of icons for BuddyPress and rotated Earth icons for global inclusion.
Updated PHP: With the WordPress 5.2 version, there is a necessity that you update your PHP in order to run plugins and themes smoothly. If a plugin requires a higher version of PHP than what you're currently using, you will not be able to activate said plugin. Update your PHP version before installing 5.2! Actually Synology provides us with PHP 7.2.13. The minimum supported PHP version is now 5.6.20 for WordPress 5.2.
This post was updated on Thursday / September 2nd, 2021 at 1:45 AM