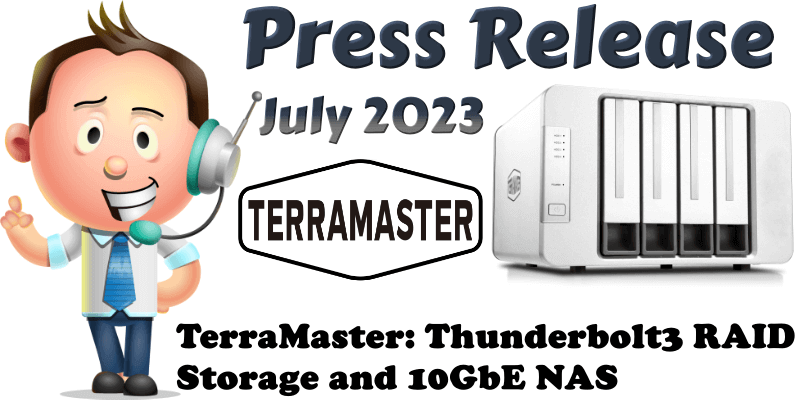 As you know, TerraMaster is a professional NAS brand that I have often reviewed on mariushosting and whose products I have been using daily for important Backups. For this reason, I will be updating you from time to time with news on this brand which is becoming a reference point among professionals in the field.
With the development of multimedia production and broadcasting technology, more and more film and television works are produced based on high-definition 4K or even 8K environments, and the size of a single video material can reach dozens of GB, or even hundreds of GB. The space, reliability, and transmission performance issues of storage devices are becoming more and more difficult. TerraMaster, a professional brand that focuses on providing innovative storage products for homes and businesses, provides Thunderbolt 3 RAID Storage and 10GbE NAS series, the 2 high-speed storage solutions for 4K video editing, which are perfectly suitable for professionals with high requirements.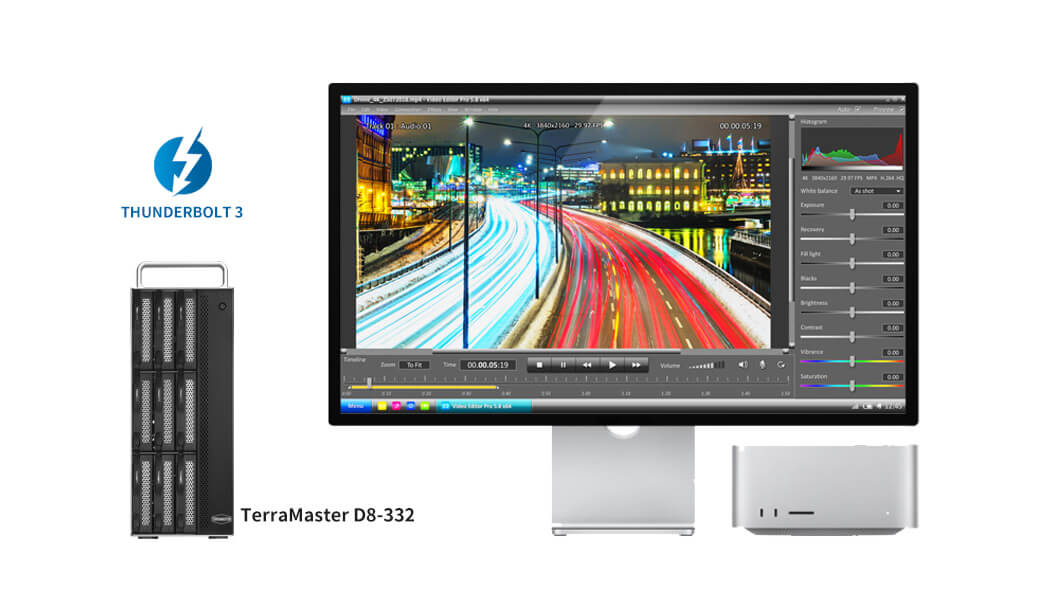 📄Thunderbolt 3 RAID Storage Solution
For those who need fast data transfer speeds, the most popular connection is Thunderbolt. As you know, Thunderbolt3 has a theoretical speed of around 40Gb/s. When working with 4K or even 8K video editing projects, the size of the media files can increase significantly. For larger files, it takes longer to transfer them between the computer and the storage device. The high-speed Thunderbolt3 interface will greatly shorten the transmission time and significantly improve work efficiency.
TerraMaster Thunderbolt3 RAID Storage product series are all equipped with 2 Thunderbolt 3 interfaces, using professional hardware RAID controllers, 40Gbps high-speed data transmission, and can be perfectly combined with Thunderbolt 3 devices and MacBook Thunderbolt 4/USB 4. It supports multiple array modes such as RAID 0, 1, 5, 6, 50, 10, and JBOD, which provide an important guarantee for data security, and can use your storage capacity with maximum efficiency.
D8-332 supports 8 hard disks to form multiple RAID modes. In RAID 0 array mode, it can achieve a transmission speed of up to 1600 MB/s, and in RAID 5 it can achieve a speed of up to 1440 MB/s.
D16 Thunderbolt 3 supports 16 hard disks to form a variety of RAID modes. In RAID 0 array mode, it can achieve a transmission speed of up to 2817 MB/s, and in RAID 6 it can achieve a speed of up to 2480MB/s.
When using Thunderbolt 3 products, less time is required for nearly every aspect of the post-production workflow. Users can transfer hours of footage from Blackmagic devices to Adobe Premiere Pro at lightning speed. Conversely, for uncompressed HD 10- and 12-bit video, users can edit ProRes 422 (HQ), ProRes 4444 XQ and other streams. Thumbnail and preview rendering is significantly more responsive when working with large projects with a large number of HD clips.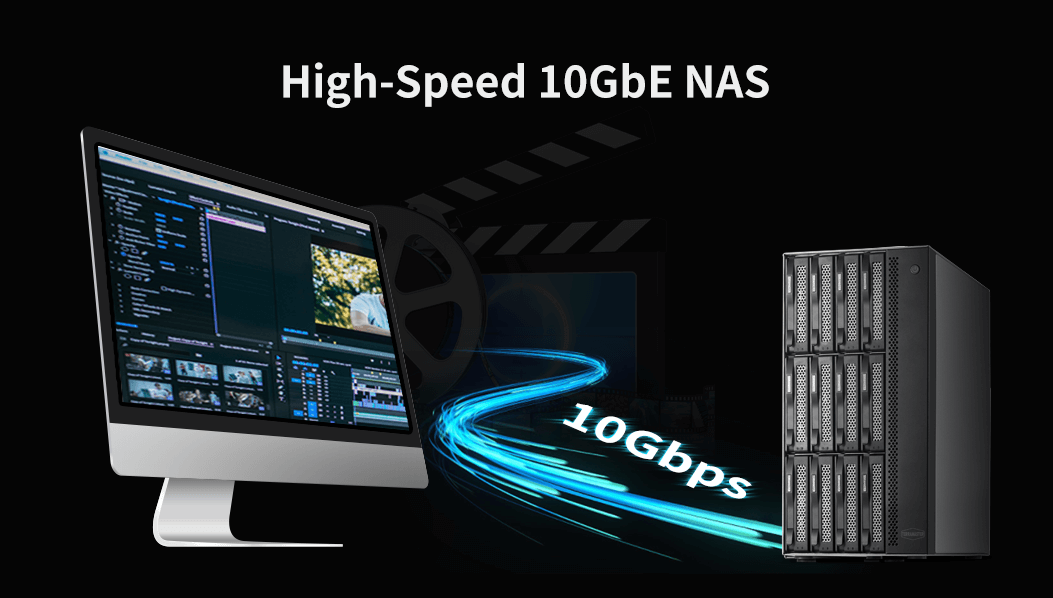 📄10GbE NAS Solution
If you have multiple editors or even multiple teams in video post production, then you'll need to be able to collaborate and share your project across multiple computers in multiple offices. With Thunderbolt storage, you can only make a few connections and have no sharing function. At this time, high-speed NAS devices are more suitable for team collaboration and sharing. TerraMaster 10GbE NAS is compatible with a variety of video editing software to edit directly from the NAS, which is ideal for editing teams from different locations without the cable distance limitations like Thunderbolt devices.
TerraMaster 10GbE NAS product series supports connection to workstations via 2 SFP+ 10Gb Ethernet interfaces on the device, enabling dozens of workstations to access storage and post-editing simultaneously. Through network aggregation (link aggregation), it can provide up to 20Gb transmission bandwidth. It is also equipped with two 2.5GbE RJ45 network interfaces, which also provide convenient and flexible maintenance for NAS devices, and are convenient to operate, maintain and manage in different network environments.
The 10GbE NAS product series currently launched by TerraMaster include 9bay T9-450, 12bay T12-450 and 8bay short depth rackmount U8-450. By building a 10G network, multiple Windows/Mac workstations can be connected to the T9-450 at the same time, and the collaborative work of online editing of multi-track 4K materials, special effects production, video synthesis, and import and export of lens clips becomes easy, greatly improving work efficiency and greatly reducing the production time of the project.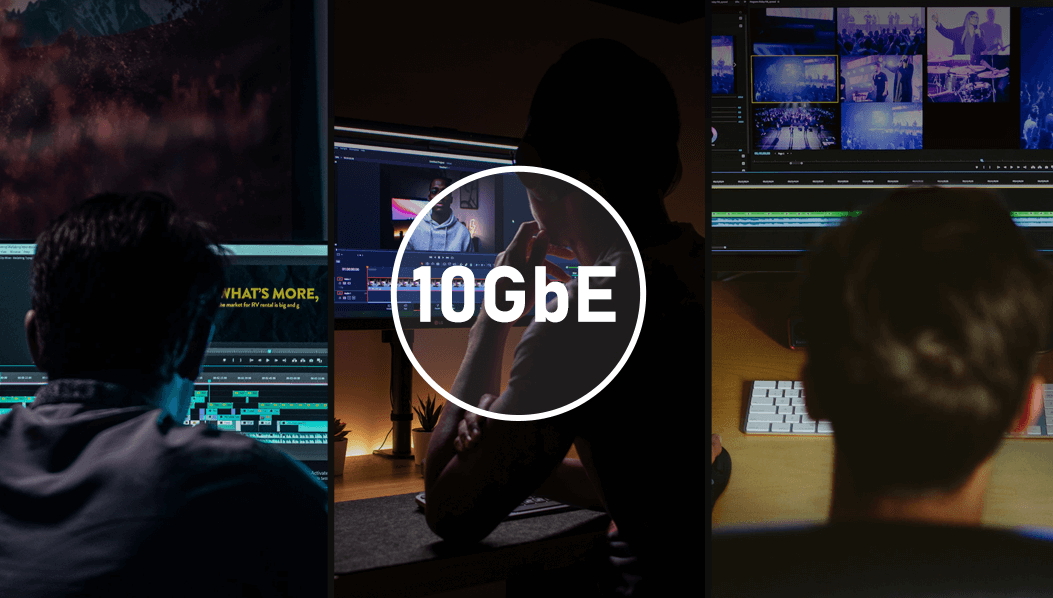 All TerraMaster high-speed 10Gb NAS series support various video editing software, such as Edius, Adobe Premiere Pro, DaVinci Resolve and Final Cut Pro. Seamless collaborative editing of multi-track 4K media, special effects production, video compositing, and clip import/export.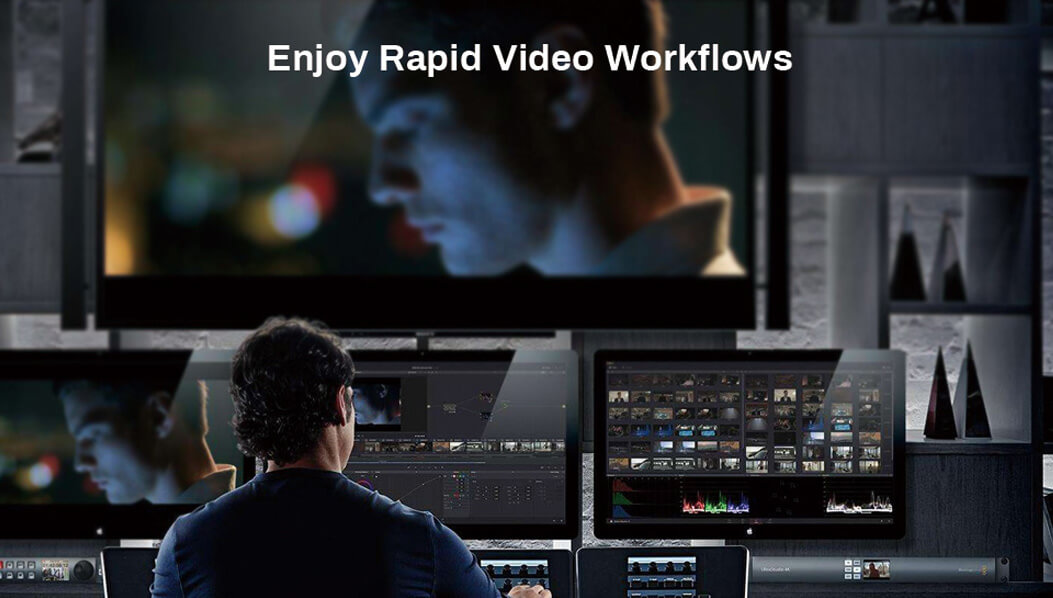 📄Thunderbolt 3 RAID Storage + 10GbE NAS
In order to better serve your team and improve work efficiency, you can also have the solution of TerraMaster Thunderbolt 3 RAID Storage and 10GbE NAS at the same time. You can directly connect the Thunderbolt 3 RAID Storage to your computer for 4K/8K video editing, and then use the 10GbE NAS to share your projects for better high-speed video editing and project collaboration sharing experience.
For more information, check the product links: T9-450, T12-450, U8-450, D8-332, D16 Thunderbolt 3.
This post was updated on Tuesday / July 25th, 2023 at 1:47 PM