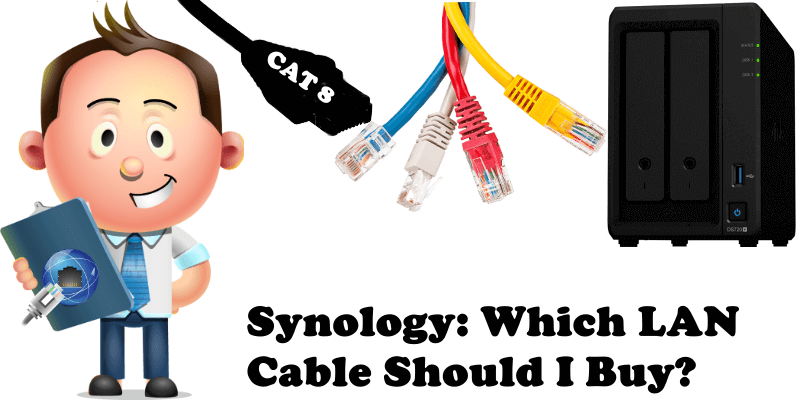 If you, like me, have a Synology NAS with two bays or more, it's almost certain your NAS came with two CAT5e cables. Cat5e is the most common type of cabling used for deployments due to its ability to support Gigabit speeds at a cost-effective price. Aside from your RAM, have you ever thought about upgrading your Synology LAN cables from CAT.5e to CAT.8? In this article I will explain why you should do it. For one, you should do it because mariushosting did it too. And secondly, because you will enjoy long term benefits. Are you curious? Keep reading.
Many early-generation Ethernet cables have become obsolete. So I decided to change my entire network Ethernet cables and today I replaced all of my old CAT.5e, CAT.6, CAT.7 cables with CAT.8 cables that travel at the exact same frequency, and the result was something unexpected. Before the change, even though I had all CAT gigabit cables, my PC to NAS upload speed was only 90 MB/s to 94 MB/s. But now, with the CAT.8 cables, I've reach a speed of 116 MB/s. Fantastic, isn't it?
Is a CAT cable the same thing as an Ethernet cable? Yes. Ethernet is a physical and data link layer technology for Local Area Networks, or LANs.
| | | |
| --- | --- | --- |
| CAT. 8 | ✅ 40Gbps | 2000 MHz |
| CAT. 7 | ✅ 10Gbps | 600 MHz |
| CAT. 6A | ✅ 10Gbps | 500 MHz |
| CAT. 6 | ✅ 1000Mbps | 250 MHz |
| CAT. 5e | ✅ 1000Mbps | 155 MHz |
| CAT. 5 | ✅ 100Mbps | 100 MHz |
Note: MHz is the abbreviation for Megahertz.
Note: 1,000 Megabits equals 1 Gigabit. 10,000 Megabits equals 10 Gigabits. 40,000 Megabits equals 40 Gigabits.
Note: The higher the MHz, the more bandwidth the cable can support over distance.
A total of 5 CAT.8 cables connected this way:
1 CAT.8 Cable from the Router to the ONT fiber terminal.
1 CAT.8 Cable from the Router to the switch.
1 CAT.8 Cable going out of the switch and into the PC.
2 CAT.8 Cables from my DS720+ NAS to the switch.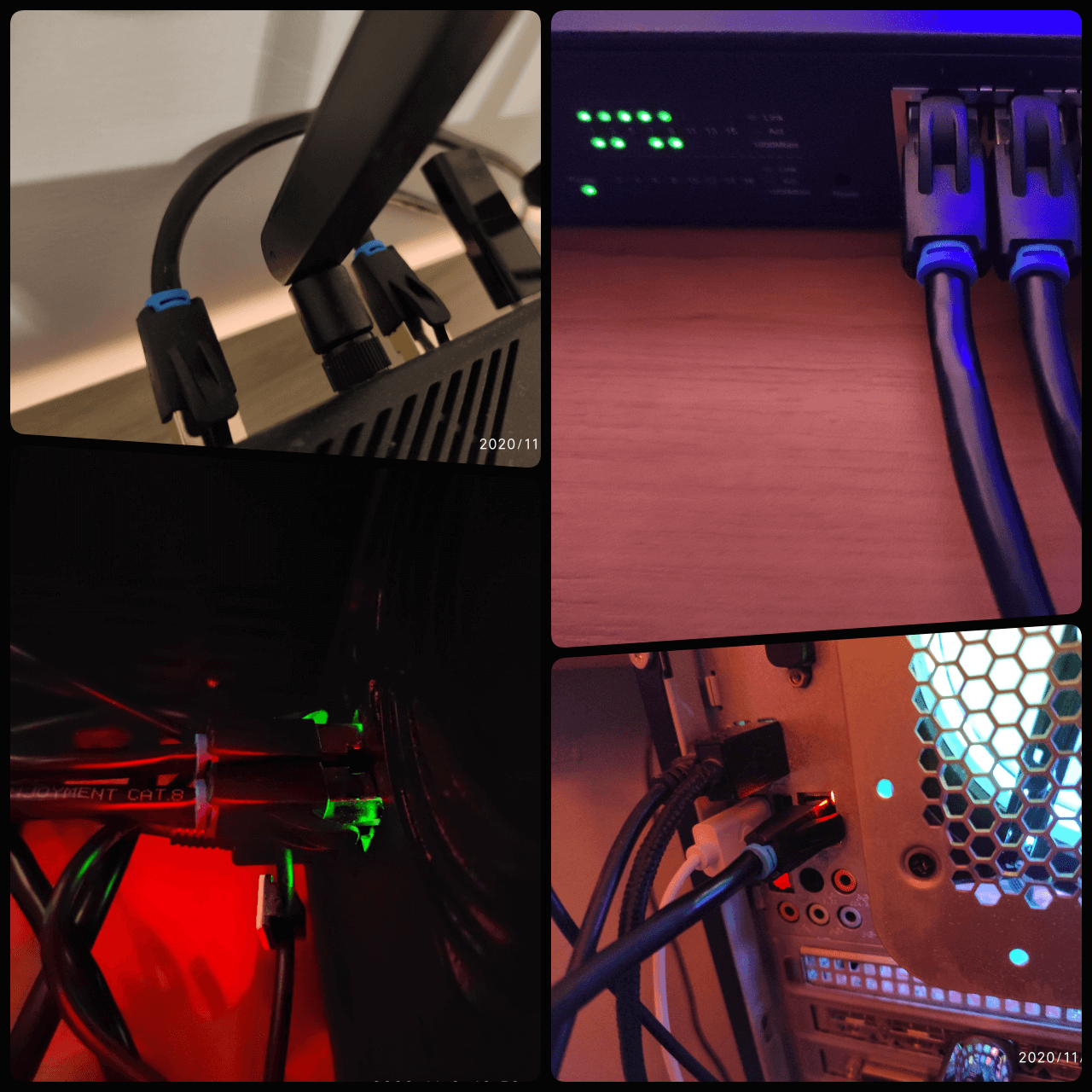 Many of you might be wondering why I use a CAT.8 cable if I don't have a PCIe card that supports a connection of over 1Gbps, or at least a switch that support over 1Gbps? The answer is simple: I did it for the purity of the signal frequency without magnetic interferences.
Note: CAT.5e may not always give 1 Gbit performance in every network environment.
Note: Under ideal conditions, the CAT.8 cable is capable of a little more than similar-category cables with a lower MHz frequency.
Note: CAT.8 cables support faster transmission rates at distances of up to 30 meters.
Note: The only time you would need CAT.6a, CAT.7, or CAT.8 cables is if you had a 10Gbps connection. However, as I mentioned a little earlier, sometimes a CAT.8 cable can make a difference in your 1Gbps network speed environment.
Note: Always keep in mind to use the same CAT cable category numbers in your network setup. Do not use cables with different frequencies in the same network environment if you want everything to run smoothly.
Note: Does your Synology NAS support CAT.8 LAN cables? Yes, absolutely.
Note: Which brand of CAT.8 cables does mariushosting recommend? Vention CAT.8 SSTP Patch Cable.
Note: Long term benefits: in the future, if I can afford a 10Gbps network environment (10Gbps switch, 10Gbps PCIe card etc.), I won't have to replace any cables. I will already be one step ahead. Not just me, but also those of you who are reading this article today.
Note: Another benefit of CAT.8 cables is a reduction in Ping speed which means less lag when I'm browsing, gaming etc.
Note: Is mariushosting trying to sell to me something? Absolutely not. As you well know, I do not sponsor any products, nor does my website sell or earn anything or make any kind of profit off the sale of any product. My recommendations are genuine, as always.
This post was updated on Wednesday / August 10th, 2022 at 10:31 PM