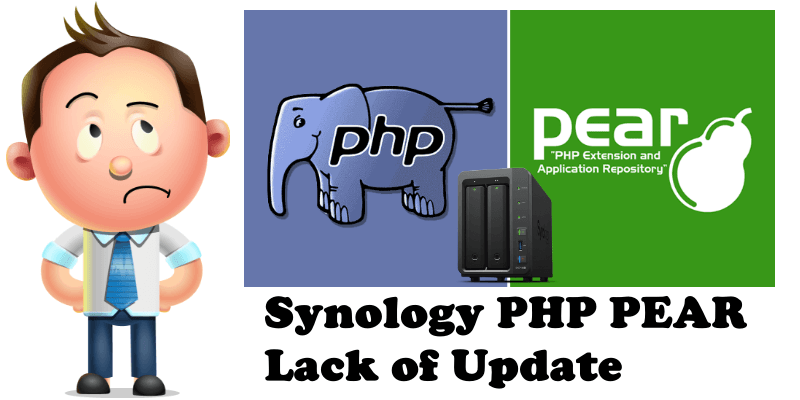 PEAR is short for "PHP Extension and Application Repository" and is pronounced just like the fruit. You can find this package in Synology Package Center. PHP Extension and Application Repository, or PEAR, is a structured library of open-source code for PHP users. It provides a framework and distribution system for reusable PHP code components, promoting a standard coding style. With PEAR, you can download high-quality PHP code written by other PHP developers, including authentication, caching, encryption, web services, and many more.
Current Stable Pear Version is:

1.10.9

issued
(

2019-04-10

). "Changelog"

Current Stable Synology Pear Version is:

1.10.1

issued
(

2016-03-03

) 3 years and 7 months ago since I wrote this article.
The funny thing is that version 1.10.1 was issued 2015-10-17. So Synology hasn't updated this package for over 4 years; unbelievable! In recent years many PEAR incompatibility bugs with various versions of PHP have been solved and it seems that Synology is sleeping. I've already noticed this lack of interest in updating other packages. Things have started to pick up in the last year (2019), but I'm still not happy with the results.
The world of the web is evolving, and even Synology is evolving. I use my Synology NAS for web-hosting only and applications like PEAR are "indispensable".
This article is directed at Synology and I hope that its team of developers will take the time to update the packages offered. Words do not help much as there appears to be a generalized indifference towards updating packages. And this issue requires immediate action.
This post was updated on Monday / July 13th, 2020 at 2:47 AM