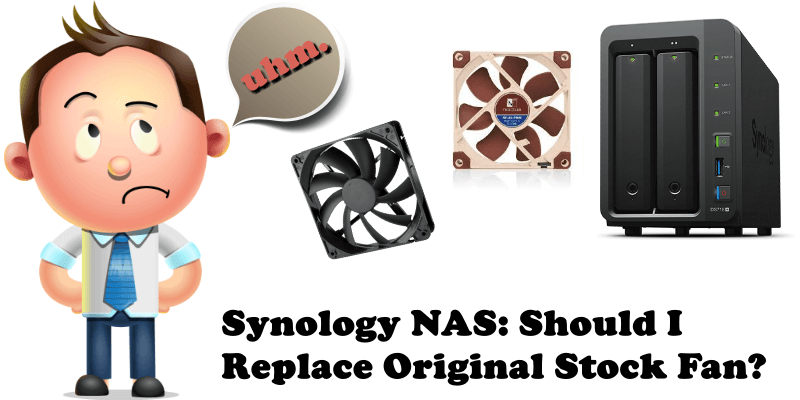 Will replacing the stock fan on your Synology NAS with a high niche airflow fan improve drive temperature? Most people replace the original Synology YEN SUN stock fan with the Noctua NF-A9 and, surely, you can see there are so many positive comments on the net about the change. All of those comments, in fact, are made by non professional users. After careful analysis, I can confirm with certainty that the internal YEN SUN fan is better than Noctua NF-A9, and better than many other fans that cost a fortune. Here are some differences directly from the manufacturers:
Original Stock Fan
YEN SUN
FD128225LL-N
36.3 CFM 61,7m3/hj @ 23 dB
1900 RPM
3 PIN
92mm
Price: 3 dollars
---
Noctua
NF-A9 PWM
SS02 HD bearing
46.4 CFM 78,9m3/h @ 22.8 dB
2000 RPM
4 PIN
92mm
Price: 30 dollars
One look at the specifications above, and, surely, the Noctua appears to come out victorious. But alas, my Synology NAS temperature was the same. After 6 hours of careful analysis, which was required since Synology temperature sensor readings are not in real time, it turned out that my Synology NAS temperature was one degree higher with the Noctua fan. Unbelievable! I mean, everybody on the Internet said that the Noctua, or any fan other than the Synology original, was far better! There's also no difference with regards to the noise – that is, even with the new fan, the noise level stays the same. If your original Synology fan happens to somehow break, an unfortunate situation indeed, I say buy a cheaper YEN SUN. It's just as good as more expensive ones. And the average lifespan of a fan is approximately 10 years. By the time 10 years have passed, you will have already bought a new Synology NAS.
Take every recommendation on the Internet with a grain of sand – that is, be a little skeptic of all these wondrous hacks and tricks! It's normal to be excited about a new computer part or a new Synology NAS part. But not all devices need an upgrade; some actually have really good parts. Take Synology NAS, for example. You really don't need to change the original fan just for the sake of changing it. Maybe upgrade your disks and RAM, if needed, but not something that does its job.
This post was updated on Tuesday / February 4th, 2020 at 8:04 PM