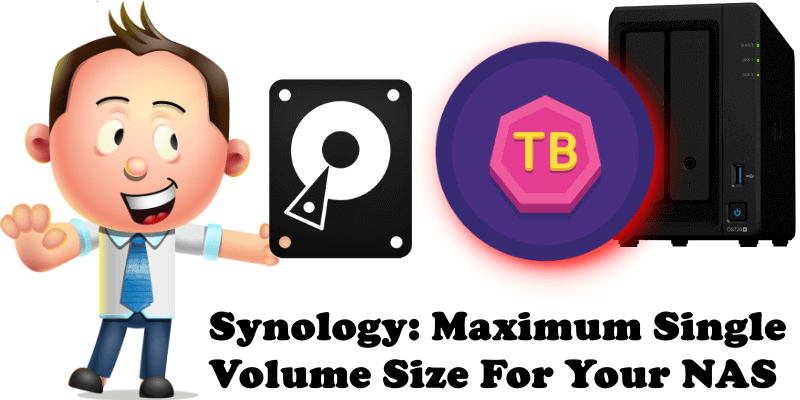 Today I want to introduce you to an awesome explanatory table from Synology that quickly and easily summarizes what is the maximum single volume size capacity for different Synology NAS models.
16 TB

19-series: DS419slim
18-series: DS218j, NVR1218
17-series: RS217
16-series: RS816, DS416, DS416slim, DS416j, DS216, DS216play, DS216j, DS216se, DS116, NVR216
15-series: RS815, DS415play, DS215+, DS215j, DS115, DS115j
14-series: RS814, RS214, DS414, DS414slim, DS414j, DS214+, DS214, DS214play, DS214se, DS114
13-series: DS413, DS413j, DS213+, DS213, DS213j, DS213air
12-series: RS812, RS212, DS212+, DS212, DS212j, DS112+, DS112, DS112j
11-series: RS411, DS411, DS411slim, DS411j, DS211+, DS211, DS211j, DS111
10-series: DS410, DS410j, DS210+, DS210j, DS110+, DS110j

108 TB

22-series

: RS822RP+, RS822+, RS422+, DS2422+, DS1522+, DVA1622

21-series: RS1221RP+, RS1221+, DS1821+, DS1621+, DVA3221

20-series: RS820RP+, RS820+, DS1520+, DS920+, DS720+, DS620slim, DS420+, DS420j, DS220+, DS220j, DS120j
19-series: RS1219+, RS819, DS2419+, DS1819+, DS1019+, DS119j, DVA3219
18-series: RS2818RP+, RS2418RP+, RS2418+, RS818RP+, RS818+, DS1618+, DS918+, DS718+, DS418, DS418play, DS418j, DS218+, DS218, DS218play, DS118
17-series: DS1817+, DS1817, DS1517+, DS1517
16-series: RS2416RP+, RS2416+, DS916+, DS716+II, DS716+, DS416play, DS216+II, DS216+
15-series: RS815RP+, RS815+, DS2415+, DS2015xs, DS1815+, DS1515+, DS1515, DS715, DS415+
14-series: RS2414RP+, RS2414+, RS814RP+, RS814+
13-series: DS2413+, DS1813+, DS1513+, DS713+
12-series: RS3412RPxs, RS3412xs, RS2212RP+, RS2212+, RS812RP+, RS812+, DS3612xs, DS1812+, DS1512+, DS712+, DS412+
11-series: RS3411RPxs, RS3411xs, RS2211RP+, RS2211+, DS3611xs, DS2411+, DS1511+, DS411+II, DS411+
10-series: RS810RP+, RS810+, DS1010+, DS710+

200 TB

HD-series: HD6500

FS-series: FS6400, FS3600, FS3410, FS3400, FS3017, FS2500, FS2017, FS1018

SA-series: SA3600, SA3400, SA3200D
22-series: DS3622xs+

21-series: RS4021xs+, RS3621xs+, RS3621RPxs, DS1621xs+

19-series: RS1619xs+
18-series: RS3618xs, DS3018xs
17-series: RS18017xs+, RS4017xs+, RS3617RPxs, RS3617xs+, RS3617xs, DS3617xs
16-series: RS18016xs+
15-series: RC18015xs+, DS3615xs
14-series: RS3614RPxs, RS3614xs+, RS3614xs
13-series: RS10613xs+, RS3413xs+
Note: What is TB? A Terabyte (TB) is a measure of machine storage capacity.
Note: Certain models have a raw storage capacity that is larger than the maximum single volume size (16 TB or 108 TB). If you require a capacity larger than the maximum single volume size, you may consider creating a storage pool that supports multiple volumes (or converting it to a multiple-volume storage pool).
Note: You can expand the maximum size of a single volume to 200 TB only if you upgrade your NAS device RAM memory to 32 GB or more. You can also create new volumes but you will need to make sure the maximum size of each volume is smaller than 200 TB.
This post was updated on Sunday / August 28th, 2022 at 2:43 PM