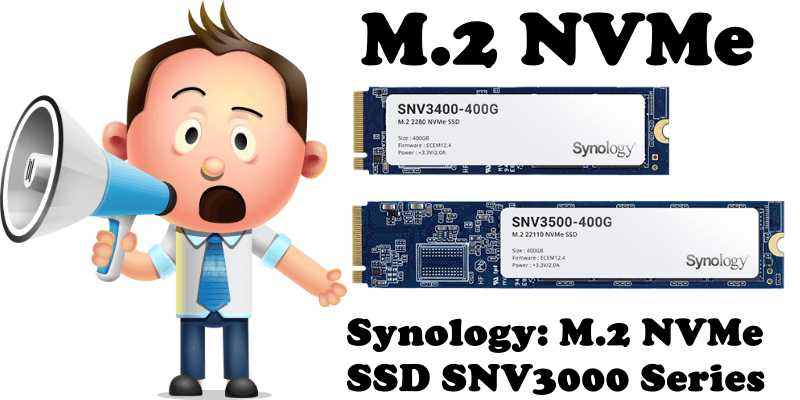 With great surprise, on June 12, 2020, Synology presented and officially launched its M.2 NVMe SSD SNV3000 Series worldwide. Synology SNV3000 series NVMe SSD is designed to handle tough caching workloads in a 24/7 multi-user environment. Its durable I/O performance boosts system responsiveness and speeds up handling of frequent access data, providing a streamlined storage experience while minimizing service disruptions to your Synology NAS. Its strengths are summarized below in 4 points:
Performance: Up to 40,000 4K random write IOPS. Performance was measured using FIO on Linux with Queue Depth 256 (4 KB = 4,096 bytes). Built for system cache, Synology SNV3000 series pushes up random I/O performance and reduces latency in demanding 24/7 environments. It offers durable caching with over 205,000/40,000 4K random read/write IOPS and a 500 TBW endurance rating, suitable for multimedia post-production and database applications.
Endurance: 500 TBW for 24/7 enterprise workload. The endurance rating was calculated based on a JESD219A enterprise workload.
Reliability: End-to-end data protection. Synology SNV3000 series integrates end-to-end data protection to safeguard data integrity over the entire transfer path. The SNV3500 comes with power loss protection circuit design, further preventing data corruption during an abnormal shutdown: Dedicated capacitors provide power to flush data-in-flight into NAND flash in a power loss event and firmware is designed to enable a correct restart on the next power-up.
Lifetime Analytics: Actionable insight for optimal performance and longevity. Full integration with Synology's DiskStation Manager (DSM) enables lifetime analytics for each SNV3000 series unit based on actual workloads. Timely Notifications. Plan further ahead for uninterrupted system performance and longevity with timely notifications. Easy monitoring allows you to make optimal use of each SSD.
Two different models with different price tags are available for purchase (on Amazon) and cater to all needs:
SNV3400 – M.2 2280 NVMe SSD, tailored for Synology NAS with built-in M.2 slots. Price 149.99$
SNV3500 – M.2 22110 NVMe SSD, built for demanding cache deployments in Synology rackmount NAS. Power loss protection circuit design is available on SNV3500 to further prevent data corruption in case of power failure. Price 169.99$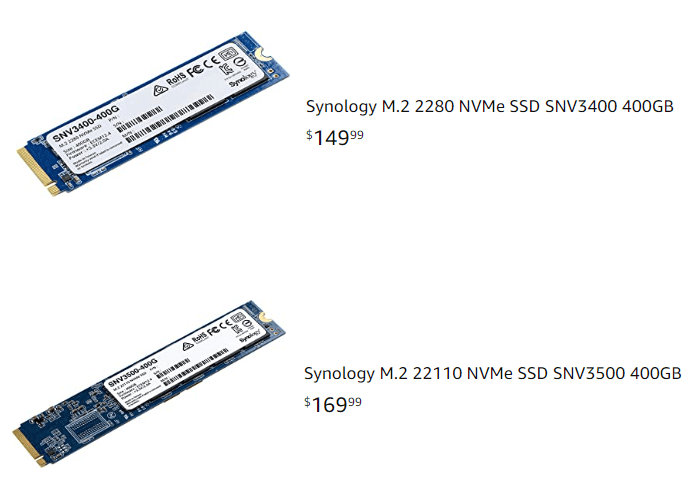 Note: (According to Synology) Synology SNV3000 series is thoroughly tested for compatibility with our systems following each engineering change, while firmware and component changes are strictly managed. Intensive I/O stress, power cycling, and temperature trials ensure that all products meet our strictest standards for quality and reliability.
This post was updated on Friday / December 3rd, 2021 at 1:13 AM