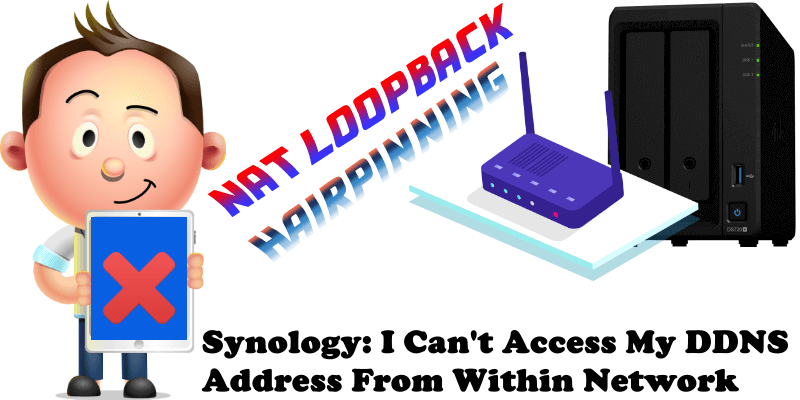 Can you access your Synology NAS via DDNS address from outside your local network, but can't access it from within your own network? Many users face this very common issue: they are unable to connect to their NAS-hosted website, their DDNS, directly from their local network, but they can easily connect from outside their local network. Why is that?
Many routers/modems/gpon devices that are provided by ISPs lack the NAT loopback feature and there are four solutions if you find yourself in this situation:
Call your ISP and tell them to give you a compatible modem/router that supports NAT loopback.
Call your ISP and tell them to put your actual gpon/modem/router in bridge mode so you can use your own router that supports the NAT loopback feature.
If they are unable to help you, you have only one solution: change your ISP.
Advanced: You can configure your ISP router to use your Synology NAS as the default DNS (for example 192.168.1.3) for DHCP by installing the DNS Server package from Package Center on your Synology NAS and configuring "https://myaccount.synology.me" to be an A record to 192.168.1.3
Note: Hairpinning or NAT loopback is a feature which allows the access of a service via the WAN IP address from within your local network. For example, you have a web server hosted on your Synology NAS on your local network or an active DDNS like the synology.me service. The web server is accessible from the outside via a public IP that is assigned to it. However, if you required local users to access this web server address using the same public IP address instead of its local IP address, they couldn't because your router would need to support the NAT loopback feature.
Note: All Synology routers support the NAT loopback feature.
Note: ISP (Internet Service Provider).
This post was updated on Wednesday / August 10th, 2022 at 9:55 PM