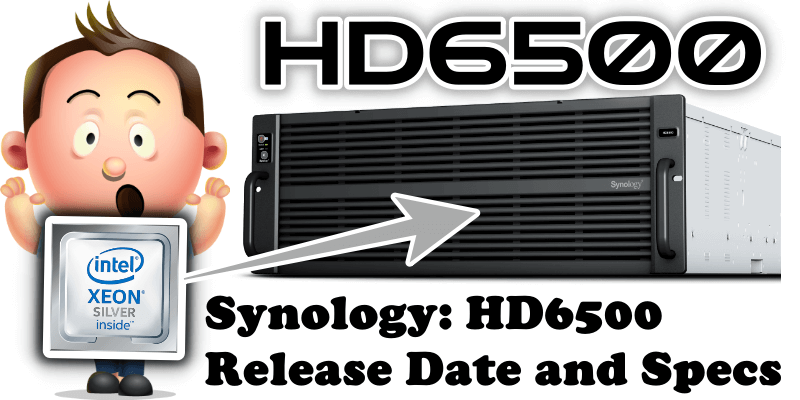 A new product joins the ranks of Synology and of course mariushosting couldn't pass on the opportunity to let you know about it. The HD6500 is the most recent Synology model to come out and, according to its name, it's an HD series from the brand – HD stands for High Density. Dubbed a monster-player, the HD6500 is a high-density SAS storage server built for rapid data scalability, optimizing operational efficiency and IT infrastructure. The 4U, 60-bay Synology HD6500 streamlines petabyte-level storage with support for up to 960 TB per chassis. It can be easily paired with up to 4 additional RX6022sas 60-bay expansion units for over 4 PB of storage in 20U.
HD6500 can deliver over 6688 MB/s in sequential read, and 6662 MB/s in sequential write. It makes for an extremely capable solution for scenarios requiring massive quantities of data such as large-scale storage for studios, large-scale video surveillance backup, and enterprise office PC backup. In my opinion, large and medium companies interested in a long-term solution for their data should opt for Synology solutions like the HD6500.
"An HD6500 system is really pushing the boundaries of scalable storage," said Jason Fan, product manager at Synology. "The simple nature of it, practically plug and play, makes it easy to integrate into any existing IT environment, no additional training needed. Running DSM 7.1, HD6500 features the same comprehensive data management and backup solutions that our customers currently heavily depend upon, but now in a super-sized package."
If you really want to see the power of the new HD6500, do a comparison with the DS1621xs+ on which mariushosting is currently hosted.
Note: HD6500 is an enterprise-level solution, not a home-user NAS, but if you want this particular product for home use, why not? After all, it's the highest performance Synology model.
Note: How much does the Synology HD6500 cost? The manufacturer's suggested retail price (MSRP) for the new HD6500 is $16,999.99 or 16,118.03 EUR.
Note: When will the Synology HD6500 become available? According to the official press release, Synology HD6500 is now available through Synology's solution partners and channel networks.
This post was updated on Wednesday / August 10th, 2022 at 9:32 PM