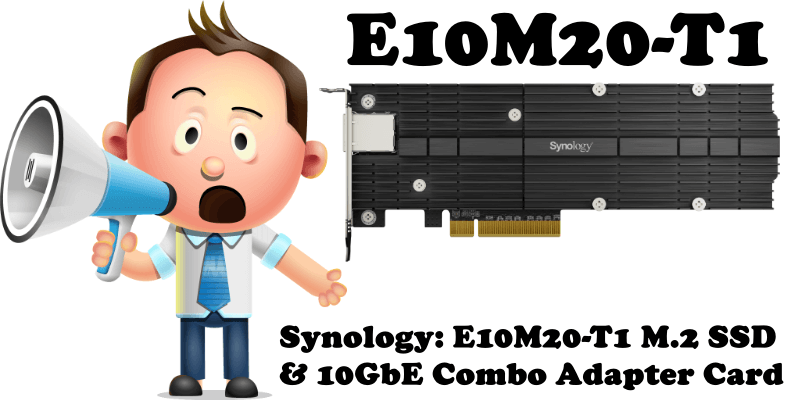 Finally, on June 12, 2020, Synology released the new E10M20-T1 PCIe card with 10GbE bandwidth and M.2 SSD cache, at the same time. Synology E10M20-T1 helps you boost I/O performance and network bandwidth simultaneously using just one PCIe expansion slot on your Synology NAS. Its strengths are summarized below in 3 points:
10GbE ready: Achieve Multi-Gig Ethernet transmission speeds of up to 10 Gbps.
NVMe enabled: Accelerate random I/O performance with the dual M.2 2280/22110 NVMe SSD slots.
Dedicated cache slots: Free up primary drive bays for data storage.
Synology E10M20-T1 is not the first PCIe upgrade card that Synology produced for their existing NAS users base. In recent years we have seen multiple NVMe upgrade cards released, with the latest being the M2D20 (featuring 22110 length NVMe SSDs too). The Synology E10M20-T1 brings together a huge degree of the hardware available in both of these categories and combines them into this top-of-the-game card. However, I'd say it's not quite perfect because, for example, I prefer two network ports instead of just one.
Synology E10M20-T1 price is in the range of 249.99$ – 299.99$
Which Synology NAS models and SSDs are compatible with the E10M20-T1 PCIe Card?
SA series: SA3600, SA3400
20 series: RS820RP+, RS820+ DS920+ DS720+
19 series: DS2419+, DS1819+
18 series: RS2818RP+, DS3018xs, DS1618+
This post was updated on Wednesday / July 29th, 2020 at 8:08 PM