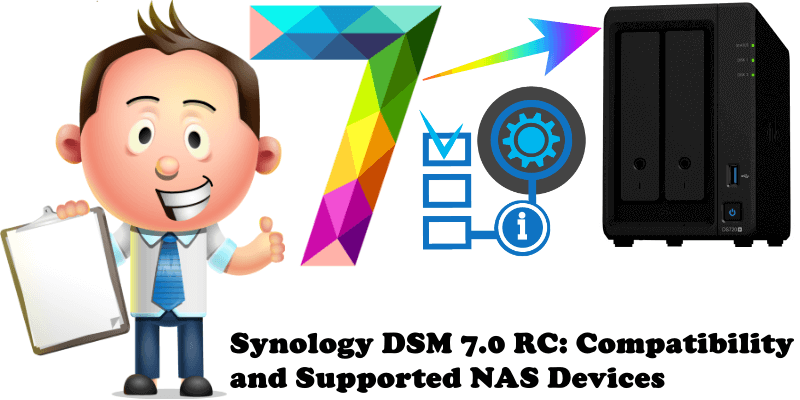 Synology DSM 7.0 RC (Release Candidate) is out worldwide and many of you must be wondering about compatibility. According to Synology, these are the NAS devices that support DSM 7.0 RC. If you don't see your NAS model in this list below, then it means that is not among the supported NAS devices for DSM 7.0 RC.
21-series
RS2821RP+, RS2421RP+, RS2421+, RS1221RP+, RS1221+, DS1821+, DS1621+
20-series
RS820RP+, RS820+, DS1520+, DS920+, DS720+, DS620slim, DS420+, DS420j, DS220+, DS220j, DS120j
19-series
RS1219+, RS819, DS2419+II, DS2419+, DS1819+, DS1019+, DS419slim, DS119j
18-series
RS2818RP+, RS2418RP+, RS2418+, RS818RP+, RS818+, DS1618+, DS918+, DS718+, DS418, DS418play, DS418j, DS218+, DS218, DS218play, DS218j, DS118
17-series
RS217, DS1817+, DS1817, DS1517+, DS1517
16-series
RS2416RP+, RS2416+, RS816, DS916+, DS716+II, DS716+, DS416, DS416play, DS416slim, DS416j, DS216+II, DS216+, DS216, DS216play, DS216j, DS216se, DS116
15-series
RS815RP+, RS815+, RS815, DS2415+, DS1815+, DS1515+, DS1515, DS715, DS415+, DS415play, DS215+, DS215j, DS115, DS115j
14-series
RS2414RP+, RS2414+, RS814RP+, RS814+, RS814, RS214, DS414, DS414slim, DS414j, DS214+, DS214, DS214play, DS214se, DS114
13-series
DS2413+, DS1813+, DS1513+, DS713+, DS213j
Others: Virtual DSM
Note: DSM 7.0 RC for FS, SA, XS/XS+ and DVA series models is currently under development and will be available in Q4 (October – November – December) of 2021.
Note: Even if your Synology device is not currently in the list, that doesn't mean that it won't support DSM 7.0 Final Release. The devices listed above support DSM 7.0 RC.
This post was updated on Tuesday / December 21st, 2021 at 4:41 PM