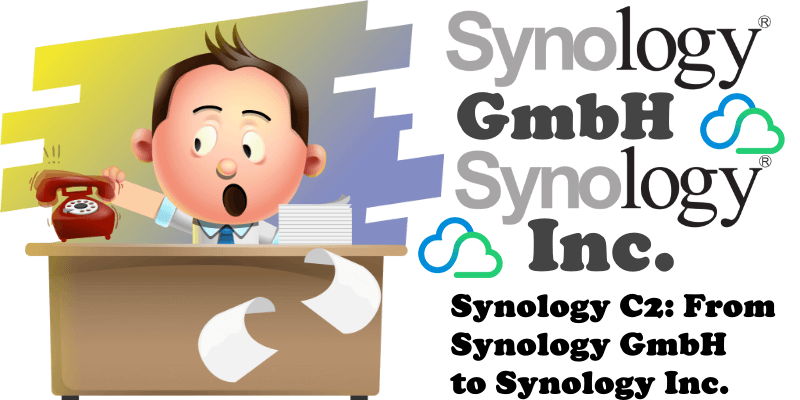 If, like me, you too are using the Synology C2 Cloud service and are living in Europe, you will certainly have received this email sent out today which reads:
Dear Synology C2 subscribers,
We are delighted to share with you that Synology C2 has been in service for over two years, protecting data stored in Synology C2 with more than 99.99% service availability. To cope with future demands, Synology will expand our C2 service point from Germany to a worldwide basis, and adjust our organizational structure accordingly.
Effective January 1st, 2020, all Synology C2 services worldwide will be centrally operated and maintained by Synology Inc., the affiliate and parent entity of Synology GmbH, and therefore the ownership and operation of Synology C2 will be transferred from Synology GmbH to Synology Inc. Except for this change of entity, our organizational re-structure does not affect the terms of our C2 services and Privacy Statement (See Terms of Service and Privacy Statement). If you have any questions, you may reach out to us directly.
Sincerely,
Synology Inc.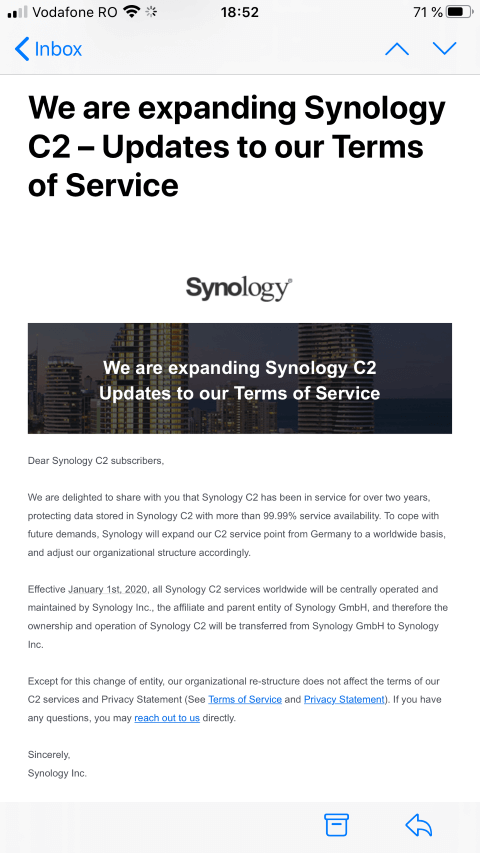 If you reside in EU countries, Synology GmbH (Synology Germany) will be the controller of your personal data, except for the Synology C2 Service, for which Synology Inc. (Synology Taiwan) will be the controller, starting January 1st, 2020.
Will this change affect your data? Will your Synology C2 data that is currently being hosted on servers located in Frankfurt, Germany be hosted elsewhere starting January 1st, 2020? Absolutely not. In addition to not making any sense, it would benefit no one (think, for example, about the lag caused by the transmission of data from one part of the world to another).
I have requested more info on this subject and I will update the article once Synology Support answers me.
This is the answer I got from Synology Support, which is in line with everything I said in this article.
Update

6.12.2019
Dear Marius,
After the updated Terms of Service, I would like to let you know that your backup data will still remain in the current data-center locating in Frankfurt, Germany.
Your data will never be transferred outside Germany without your prior consent for now and ever.
Synology C2, and all our data-center reside within EU will always abide by the local laws and regulation including GDPR, as we have always been.
Synology Inc. will inherit all the binding contracts between C2 subscribers and Synology GmbH and take full responsibility for them, we will also amend the terms of our C2 service to make sure the legal jurisdiction will remain in Düsseldorf, Germany for EU.
This post was updated on Friday / December 6th, 2019 at 8:54 PM