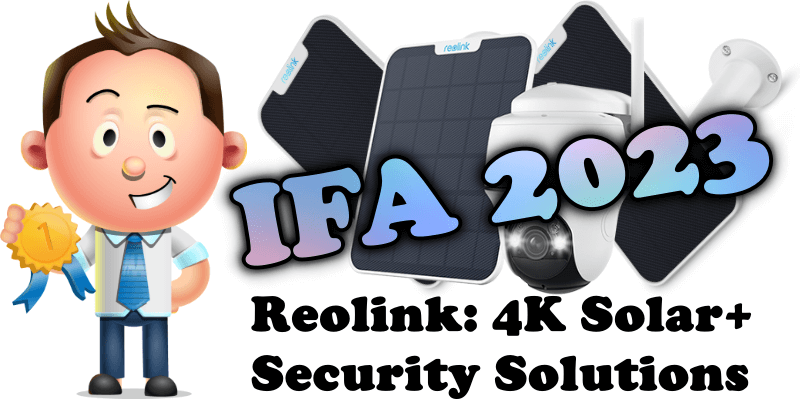 Reolink has recently participated in Europe's biggest home appliances trade show: IFA 2023. Under the theme "4K Solar + Security Solutions, We Go Beyond", the home security brand showcased its latest 4K solar camera series and an array of cutting-edge products, including dual-lens Duo and TrackMix series, and the latest dual-band WiFi 6 cameras, pushing the boundaries of home security. As you know, mariushosting has covered multiple Reolink products over time, hence this press release which will serve to help you in choosing the right Video Surveillance Camera.
We are absolutely thrilled to be part of IFA 2023! says Ali Park, Regional Sales Manager at Reolink, "This is an incredible opportunity for us to proudly exhibit our latest 4K solar camera series and 12MP UHD security cameras before their official release. Get ready to experience these cutting-edge innovations up close and personal – it's going to be an electrifying event!
Reolink proudly extends 4K Ultra HD to battery-powered home security to capture crystal-clear images. By harnessing solar energy and incorporating AI-assisted smart detection technologies, these 4K UHD solar-powered cameras provide all-around security for all homeowners.
Stay connected with Argus Eco Ultra's dual-band WiFi functionality, and enjoy uninterrupted access to live feeds and footage in stunning 4K quality. This dual-band Wi-Fi camera offers faster data transfer rates and stable connections, ensuring a reliable viewing experience.
Step into the wild and capture nature's true colors with Reolink 4G LTE 4K solar cameras. In remote areas where WiFi and wired power may not reach, this camera provides stunning 4K video quality for unparalleled clarity. Experience the freedom of security, even in the most challenging environments.
Enhance surveillance capabilities with Reolink Go PT Ultra and Argus PT Ultra. These cameras can pan and tilt, covering a wider area and delivering rich 4K details. Enjoy complete control over the surroundings, all powered by solar energy.
Take night vision to the next level with Argus 3 Ultra. Its enriched 4K-detailed night vision, combined with two powerful spotlights, ensures that even the darkest corners are illuminated and carefully monitored. Experience non-stop solar-powered colorful recording throughout the day and night.
All 4K battery cameras mentioned above can be effortlessly charged with Reolink's solar panel, requiring just 1 hour of charging for 24 hours of protection. By harnessing sun energy, Reolink not only contributes to environmental conservation, but also takes home security to new heights. Learn more about the Reolink 4K Battery Camera Series and its versatile features.
See More with Dual-Lens: Reolink Duo 2 PoE & Argus Track
Experience a wider perspective and enhanced coverage with Reolink's dual-lens security cameras. Equipped with advanced optics, these cameras seamlessly merge two views into one, eliminating any gaps and providing a smoother, more comprehensive image with a double field of view and no overlapping parts.
Connect Faster with Dual-Band WiFi 6: Reolink E1 Outdoor Pro & RLC-810WA
Indulge in lightning-fast connectivity and seamless video streaming with Reolink's dual-band WiFi 6 cameras. Setting a new standard for wireless performance in security systems, these advanced devices ensure smooth data transfer and reduced latency. Stay connected to properties with unparalleled ease and reliability, missing no moment of crucial footage.
DIY Security Systems with Ease-of-Use: Up to 12MP Resolution
Get empowered with Reolink's user-friendly DIY security systems. Whether for a tech-savvy enthusiast or a novice, these systems are thoughtfully designed for easy setup and seamless security experience. Take control of security with confidence and enjoy peace of mind knowing that safeguarding the home is both straightforward and effective.
This post was updated on Tuesday / September 5th, 2023 at 11:44 PM