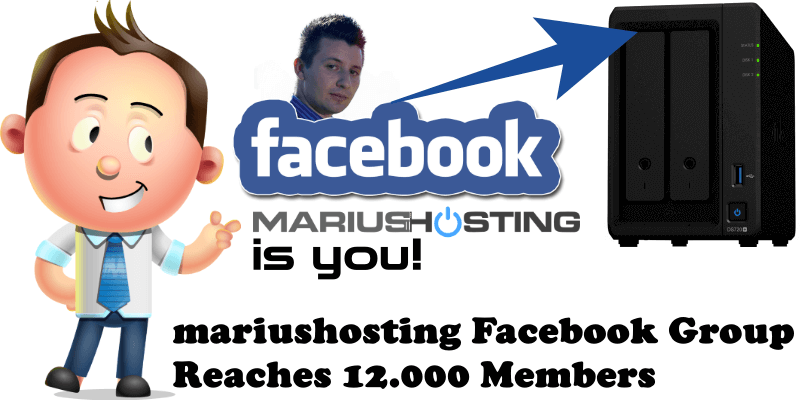 On April 20, 2021, mariushosting celebrated an important milestone: the Facebook group reached 11,000 members! Today, June 15, 2021, less than two months from the last event, we're celebrating 12,000 members! Patience, determination and, above all, a lot of hard work: this is the only way to reach the top. mariushosting is you, you who are reading this blog with enthusiasm and excitement every single day! Would you imagine a world without mariushosting? Certainly not! Clear, simple guides and a language suitable for all levels of technical expertise make mariushosting unique.
Many have tried to discourage me and make me quit the work I'm doing saying that it's low-quality fast food. Many have criticized my writing, the choice to keep things simple and accessible, and even downright insulted me. It is not an easy path, but mariushosting is my soul project to which I dedicate most of my time. I am a true Synology fan who writes with passion and excitement. And even if you don't share in that same excitement, but use Synology NAS devices for work or at home, know that mariushosting will be there for you and accompany you in your Synology NAS adventure!
Thank you everyone, Moderators (Paul Barrett, Jason Yeo, Sebastian Kochendörfer, Paul Steunebrink, Scott Zettervall) and all group users who have made this possible! And the rest of you who are not yet with us, come join the biggest Synology NAS Facebook group using the link below.
Also don't forget to keep supporting mariushosting because, as opposed to most other websites, mariushosting doesn't have ADS, COOKIES, POP-UPs, Amazon AFFILIATE LINKS or any TRACKING CODE on it. I fully respect your privacy. Every time you make a donation, it means I can spend time contributing with new step by step articles on the website that you can use to enjoy your Synology NAS. Remember that this website with all the valuable information is hosted from home on a Synology NAS which remains accessible 24/7 for you!
This post was updated on Friday / August 26th, 2022 at 9:46 AM