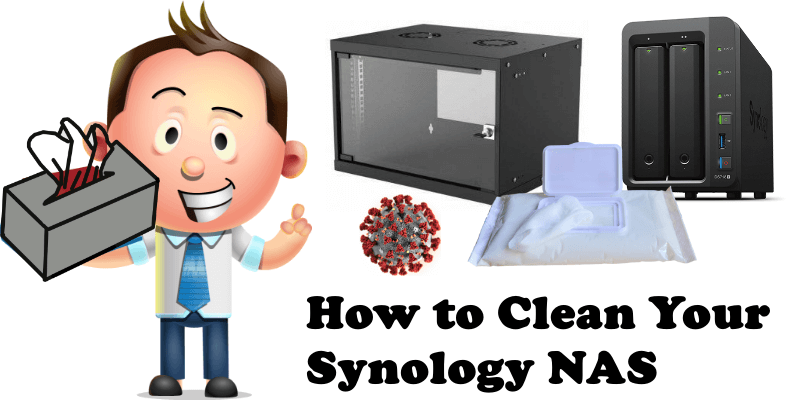 Viruses, bacteria, mold, dust and all sort of particles can nest in our beloved Synology NAS. Not to mention that, these days, the whole world is worried about a virus that can live on surfaces for 10 days or more: Covid-19 (CoronaVirus). So let's talk about how to clean your Synology NAS in the age of the Corona virus. In my old article on How to Keep Your Synology NAS Dust Free, I had found a very efficient solution to blocking dust from infiltrating Synology disks and motherboard. But today I want to tell you how to not just clean, but also disinfect your device safely.
My top advice is to avoid cleaning or disinfecting your Synology with spray cans. Of course, you can do it if you want to, but it is not recommended at all to use any liquid on an electronic device since liquids will damage the internal components (sprays contain pressurized liquid). There's also the risk of electrocution if the power to your device is not turned off and unplugged prior to the cleaning, so watch out for that too. If you are set on using such a product, at least do not spray directly on your device. Instead, turn off the device and spray the product on a clean cloth, then use.
An ultraviolet lamp (UV lamp) for medical or at-home use can be used to disinfect your Synology NAS and it can render the device virtually germ-free. UV lamps are effective against bacteria, viruses and even mold. Certainly they are not cheap, but not quite out of budget for those of us who own a Synology NAS. Although UV lamps are supposedly effective against the Corona virus and can kill the virus indoors (they have been used in China to sterilize buses), they should absolutely not be used to sterilize hands or other areas of your skin as the radiation can cause skin irritation, even burns and affect the health of your eyes. In short, their home-use should be avoided because of the potential to cause serious health problems. So what is then a safe and cost-effective solution for cleaning and disinfecting your Synology NAS?
In my opinion, the best solution for your Synology NAS are disinfectant wet wipes, effective against both viruses and bacteria. It's important to check the label and get wipes with both antibacterial and antiviral properties (because there are brands that are simply antibacterial and do not kill viruses). Always remember to turn off the power to your device and unplug it before proceeding to such a thorough cleaning. And if the wipes are too soggy, just leave them out for a few minutes before using them.
If the situation requires it, and it might if there are people coming and going around the house or office, you can place your Synology NAS device in a rack box/cabinet that prevents others from touching it and potentially contaminating it.
This post was updated on Wednesday / April 1st, 2020 at 11:28 PM