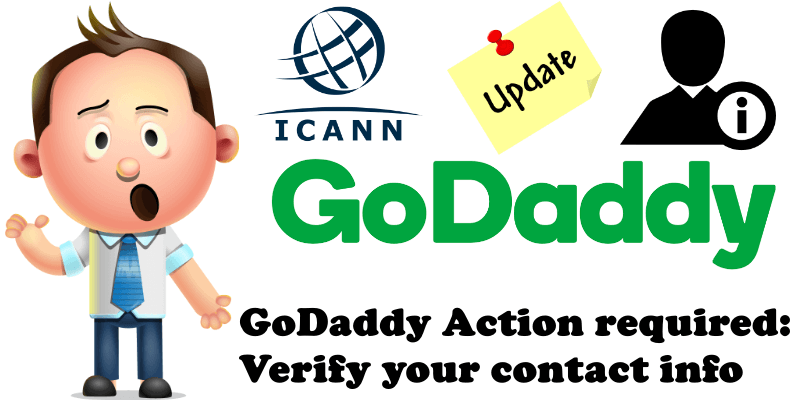 Did you also receive an email from GoDaddy claiming to update your information related to your domain? This email was sent to me from an email accountupdate@godaddy.com Is this a valid GoDaddy email? Yes, it is. Occasionally, GoDaddy is required to send reminders on registration compliance. You can see more detailed information at the GoDaddy help page. The email I received says the following:
Double-check your domain contact info.
ICANN, the Internet Corporation for Assigned Names and Numbers, requires us to ask you to review and update your details for the following domain(s): mariushosting.com
You must sign in to view and update the domain details. Here's your Domain Key in case you're prompted to enter it after signing in: Your Domain Key
Here's why it matters:
Inaccurate contact details can result in website downtime or domain cancellation. If your domain contact info is up to date, you're good to go. If not, then you need to correct it. You can review the ICANN policy here. Questions? Call 24/7 Support at 020 7084 1810.
The part with the possible cancellation of the domain sounds very threatening, therefore, the action to be followed must be immediate.
From GoDaddy:
The Registrar Accreditation Agreement (RAA) with ICANN lets us act as a registrar and sell top-level domain names (TLDs) to our customers. ICANN — the organization that manages the Domain Name System (DNS) — refreshes their RAA agreement every few years and all registrars are required to remain compliant to continually sell and manage domain names. The most recent changes require us to verify registrant and shopper contact information.
We require email address OR phone number verification if:
A new domain is registered with unverified contact information.
A domain registrant updates their shopper email address or phone number with unverified information.
We are notified or have reason to believe that a shopper's contact info is invalid.
---
The funny thing? This is the second time I have received this email in the last 30 days and it is the second time that I declare that my current contact info is correct. I don't know why I got the email again. Should I receive this email again, I will contact GoDaddy by phone. Currently, by logging into my account, I do not see any error message and no request to perform any update. Did you also receive this email from GoDaddy?
Update: at the end of the email I see this – Note: If you are the domain administrator of more than one GoDaddy domain account, you may receive this notice multiple times. I will keep an eye on this and keep you informed if I ever receive an email like this again.
This post was updated on Thursday / January 2nd, 2020 at 9:31 AM