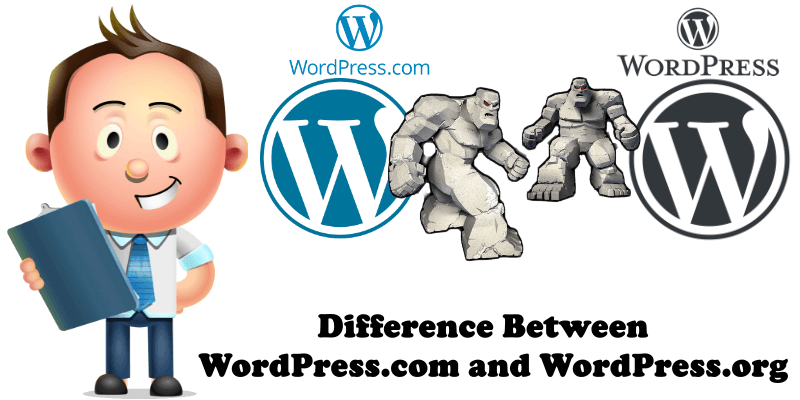 It doesn't matter if you are an expert or not – it's possible you may not know the difference between WordPress.com and WordPress.org. I discovered the difference between WordPress.com and WordPress.org later on and, after that, decided to use only WordPress.org because it makes me independent and free. The whole WordPress.com vs WordPress.org thing is really confusing. For everyone. First of all, keep in mind WordPress.org and WordPress.com are two entirely different websites, organizations and web solutions. Below I will explain all the differences. Are you ready?
You don't need hosting. WordPress.com relies on its own servers.
Requires you sign up for an account to create your website or blog.
WordPress is set up for you so you can have a running website or blog in 5 minutes or less.
You get basic website functionality with a plan, but you will need pay for upgrades to take advantage of additional features.
No plugins upload allowed. You can't upload your own plugins.
No backend code, database or file access. You don't have any control over .htaccess
No theme upload. Choose from available free or Paid Premium themes. Note: Paid plans offer more functionality and features.
You will get a free domain like this: mywebsite.wordpress.com. Note: You can get a custom domain name with a paid plan.
You can't run your own ads on your website like Google Adsense. However, WordPress.com displays *their* ads on your site – that's the price you pay for having the platform for free (with limitations). To remove those ads, you have to pay at least $4/mo.
WordPress.com – ".com" stands for "commercial".
WordPress.org?
From WordPress.org you can download the WordPress software to use on your own web hosting account.
Requires a separate web-hosting account to run a WordPress website.
Most paid hosts offer one-click installation if you don't want to install WordPress yourself.
You can host your WordPress blog from home for free using Synology Nas and you no longer have to appeal to WebHosting services. You will become independent.
The WordPress software is totally free thanks to open-source development.
Upload your own plugins to extend functionality.
Access and customize all backend code, database and files. Full access and customization of .htaccess file
Upload your own free, premium or custom theme.
Use your own custom domain name for your website's URL.
You can have as many ads and as many forms of monetization as you like (also, choose any ad service you want such as Adsense or others). The good news is that you keep 100% of your earnings.
WordPress.org – ".org" stands for "organization".
The one major difference between WordPress.com and WordPress.org is who's hosting your website. This being said, which of the two would YOU choose: WordPress.com or the freedom offered by WordPress.org?
This post was updated on Tuesday / August 23rd, 2022 at 11:35 AM