Once again Synology surprises us with some incredible news. Synology has decided to support some packages in its Package Center that were previously only downloadable via the SynoCommunity. The packages that will be included in DSM 7 and supported directly by Synology in their Package Center are as follows: Acronis TrueImage, ArchiwareP5, ArchiwarePure, ElephantDrive, EynioServer, GoodSyncServer, IDrive, KodExplorer, LogicalDOC8, MEGAcmd, MinimServer, Nakivo Backup and Replication, Nakivo Transporter, NordVPN, QuikFynd, Resilio Sync, Sony BraviaMeeting, Sony BraviaSignage, Syncthing, Teamviewer, VirtualHere, 玩物下载 (Onewu download).
Note: To be clear, the 3rd-party packages listed above will be added to Package Center, in addition to existing packages.
At this moment, for example, those who have installed DSM 7, the beta version, can't download "Syncthing" from SynoCommunity. When attempting to install the package, they get the following error message: Unable to install Syncthing because it runs with root privileges. Packages with root privileges might execute commands as the root user and compromise your system security. Please contact the package developer to change the privilege settings of the package.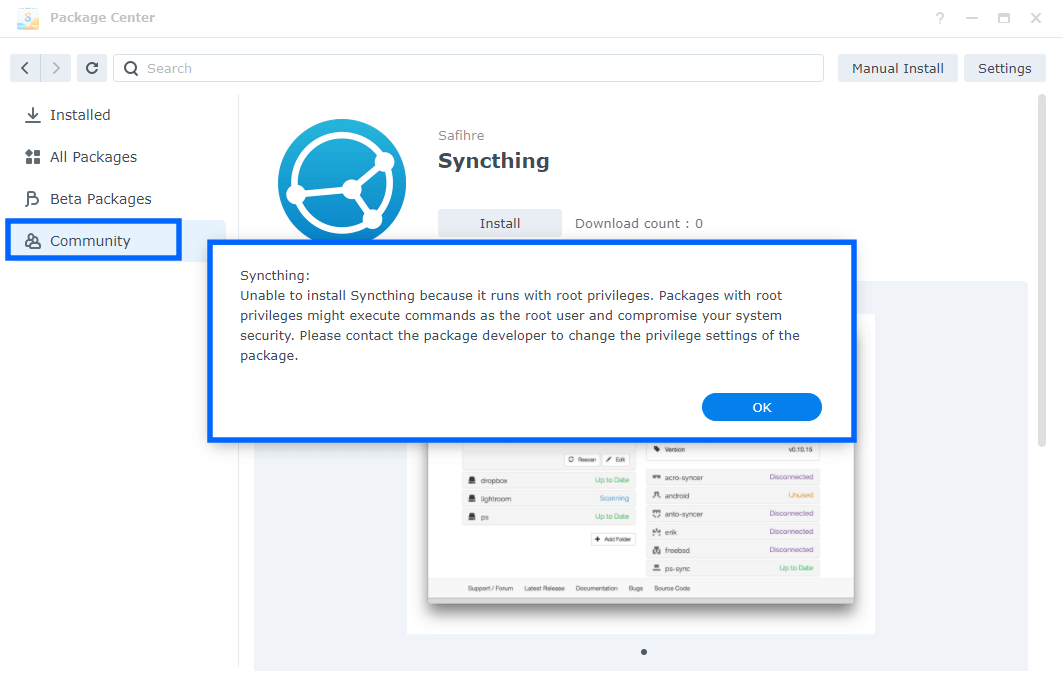 Synology has therefore decided to support some of these packages and gradually add them to its Package Center. In the list below, that I will keep updated, you can see which packages are already supported and therefore "downloadable" through Synology Package Center. Packages will be added gradually to the list so keep visiting this page for vital updates.
This post was updated on Wednesday / August 10th, 2022 at 10:02 PM